The First and Only Diver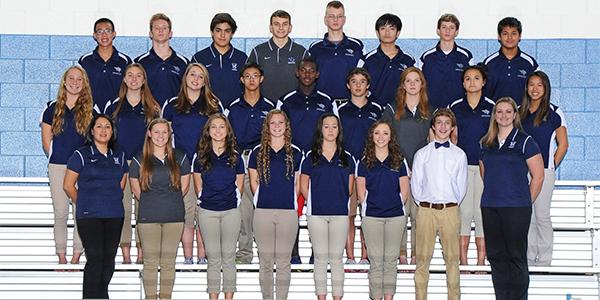 Waiting anxiously to plunge into the water, he goes through all of the past practices and drills in his head. He hears his cue and he knows exactly what to do, diving into the blue water; hoping his technique and execution is good enough to advance.
Sophomore Blake Frier is the one diver amongst the entire swim team, representing the school proudly in the past swim season.
"I've swam for several years," Frier said. "Then last year, I had Coach Almanza for Biology and she gave me the idea and I thought it would be fun to try out. She helped me get started and helped me out a lot."
As swim coach Norma Almanza helped him get into now his favorite hobby, he improved drastically throughout the season.
"I was really bad at the beginning," Frier said. "I went from scoring under 100 to scoring around 300."
Although diving is now what he loves and wants to pursue, Frier admits that the worst pain he's ever experienced came from diving.
"We were in practice and I was doing a reverse when I lost it and landed flat on my back," Frier said. "I've broken a lot of bones in my life but that probably hurt the most."
But pain is just a minor setback that comes with diving, because at the end of the day, he's doing what he loves and he has also advanced on his first year.
"In January when I placed third in district I was pretty pumped," Frier said.
As the team starts to prepare for next year's season, he now has experience and has further goals with his diving.
"I definitely didn't end my season like I wanted to," Frier said. "But my goal next year is to work harder."