Boys and Girls Soccer Moves on to Playoffs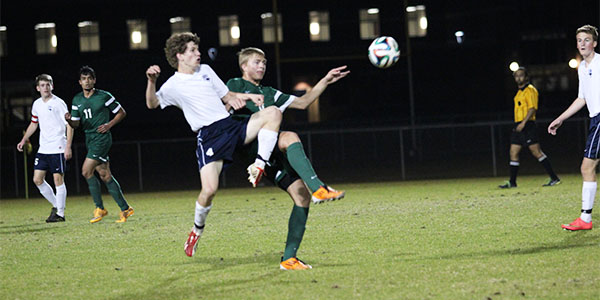 Coming into Thursday night, March 26, the boys soccer team sat at a record of 11-5-4 and were ready for their first playoff game against the Jeff Davis Panthers.
Senior Tucker Thompson, who plays outside defense for the team, was getting ready for one of the biggest games he's ever played in.
"We can't lose our focus out there, we need to be ready for anything," Thompson said.
In preparation for the game, the team watched film over their opponent to see what kind of edge they could get on the Panthers. To win the game, the Wildcats would have to utilize their team chemistry.
"Most of us have been playing together for a while and that really helps us when we play, we know each others tendencies and know what to expect out of one another," Thompson said.
The final score was 2-1 in favor of the Wildcats. After the game, Thompson was happy to get the win.
"We started the game pumped and excited to play. We kept that energy the entire game," Thompson said.
Meanwhile, the girls soccer team was getting ready for their playoff game against the Waltrip Rams on Friday night, March 27th. The girls were 12-6-1 coming into the game and were looking for another win to keep their season going.
Junior Kierra Britton, who also plays outside defense, admitted they are ready to play and win the game.
"We've been practicing everyday after school, working on our offensive and defensive formations, and I think it'll pay off on Friday." Britton said.
For a playoff game, the crowd plays a big factor, just as much as the teammates themselves.
"The bigger crowd we have, the bigger performance we have," Britton said.
Undoubtedly, it turned to be true. The Lady Wildcats won the game 7-0 in a blowout win.
"We always play the best we can and show the best sportsmanship possible," Britton said.
Now, both of the soccer teams must prepare for their next test in the playoffs.