Student Athletes Receive Scholarships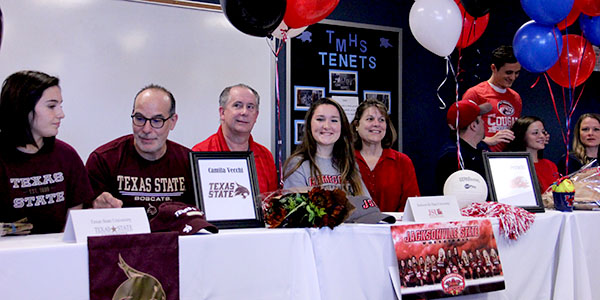 This year's senior athletes finally got their chance to showcase their hard work for the past four years. Wednesday, November 18 students, parents, coaches and teachers gathered in the LGI to commend the student athletes who received scholarship money from various colleges.
Six seniors were recognized and were commended on their academic and athletic achievement. Trystan Melancon was given a scholarship to University of Houston for softball. Rachel Perucki was given a scholarship to Jackson State University in Mississippi for volleyball. Camilla Vecchi got a scholarship from Texas State to play volleyball. Tyler Moore at Mary Hardin Baylor for men's basketball. Ashley Miller at University of Texas at Tyler for women's basketball. As well as, Dominic Robinson received a scholarship to Sam Houston State to play baseball.
"This is one of the biggest days in the athletic department," athletic coordinator Finis Vanover said.
The day was for the students to recollect on their achievements and bask in the limelight for all of their hard work and dedication they have shown for their sport in the past four years of high school.
"I've been playing basketball since I could walk," senior Tyler Moore said. "It's crazy to think I've come this far since then."
The athletes also were given a bitter sweet moment realizing that their years of high school will be coming to a close very shortly.
"We are so proud to have watches these students grow as students, athletes and as great young men and women. We will be sad to see them go," principal Carol Houston said.