Senior Basketball Player Wins District Award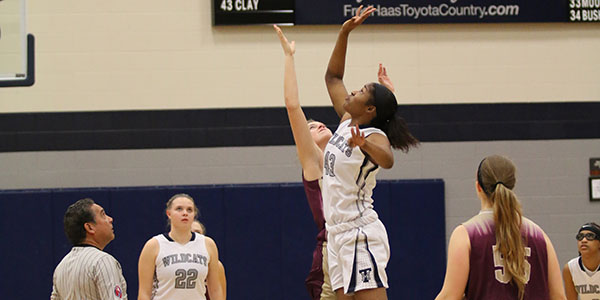 She shoots, and she scores.
Senior Varsity basketball player Jalyn Clay finished this year's season with a bang when she was awarded the District 19-5A Defensive Player of the Year and a 1st Team All District selection. Clay, who plays post, has been in the game since second grade but was still shocked when she won.
"I didn't think that I would win," Clay said. "It felt good because not everybody gets that chance."
Clay's win and hard work ethic was motivated by her anticipation for her basketball career following graduation.
"I work hard all the time," Clay said. "In order to play in college I have to dominate."
After her coach announced the award, Clay's team was very enthusiastic about her achievements.
"My family is definitely my biggest supporter," Clay said.
The award was given through an All-District meeting between the head coaches and first assistants.
"We vote on who we think should win each award," Head Girls Basketball Coach Tarence Davis said. "I nominated Jalyn."
Several factors contributed to her win, but the biggest was her effort on the court defensively.
"She's at an advantage because she's so tall," Davis said. "But when you combine that with her tenaciousness, it's a recipe for disaster for opponents."
Considering it's her senior year, this was Clay's final basketball season on the team, making the award even more personal.
"This was a great way for her to go out in her high school career," Davis said.
In addition, Clay was selected for the Greater Houston Area Girls Coaches Association All-Star game in April at Katy High School.