"Heading" to the Top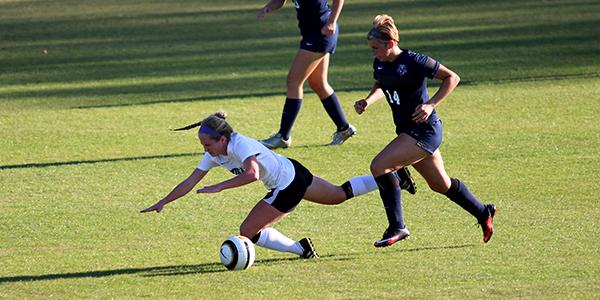 On the field, she is at home, making plays, scoring goals, dominating opponents and guiding her team to victory.  With four fun-filled years of high school soccer over, she looks to her future as a soccer star.  She is an athlete, a committed teammate and a leader, hoping for a bright future in a new place.  Rising above expectations, she's taking her career to the next level this coming fall as she plans to play for Southern Methodist University located in Dallas, Texas.
Senior soccer player Avery Ortmann has had a great soccer career.  Putting the game above all else, her hard work is finally paying off.  She has lead the varsity team to the third round of playoffs. Since starting to play soccer, Ortmann has set herself apart from others with her work ethic and enthusiasm to play.
"I have been playing soccer for 13 years, ever since I was just five years old and started playing at the YMCA.  As a freshman, I had the opportunity to start high school on the varsity team," Ortmann said. "I always push myself hard at practice and do the best I can."
Just thirteen years after the first time she kicked a soccer ball, Ortmann committed to a well-known university, even after overcoming a major injury sophomore year.  Playing sports is a way of life and greatly influences her.
"Soccer, and just sports in general, probably impacted me the most when I tore my ACL," Ortmann said. "It's what really helped me stay positive and keep pushing on."
Alongside a rigorous high school schedule, with practices every day and games twice a week, Ortmann fits a club team into her already packed agenda. Head women's soccer coach Kevin Meyer has helped transform her into the player she is now.  Including Ortmann, Meyer has coached seven other high school athletes who went to play at the college level.
"Avery has absolutely grown a lot as a player since I first started coaching her;" Meyer said.  "I believe it's fair to say she has no stop, there is no light day or day off for her, every day Avery is going to go is hard as she can."
Aside from committing to play soccer next fall, Ortmann has big goals and high hopes for her future. The professional league is on her mindset, or even playing for teams on the other side of the world.  
"I hope to one day go professional.  I don't know what team to play for but it would to be awesome to play on any," Ortmann said. "I would love to go play in Europe; it definitely would be a cool experience to have."
In February, Ortmann was selected to run in a poll for Vype magazine.  She competed with other soccer players for the title of the Top 2016 High School Female Athlete.  Though she did not win, Ortmann accumulated close to 4,000 votes. She was placed fifteenth out of forty-seven female athletes selected for the poll around Houston.
"We were excited as a program and as a coaching staff for Avery.  It was a combination of the effort she has put in over the last four years and her will to work," Meyer said. "I think we're the proudest as a coaching staff to see the school come behind her and rack up a lot of votes, it was a testament to our program as well to get a girl brought in there."
No matter where Ortmann plays, she is well-known.  She has given every game, practice and tournament her all to get to the position she is in today.  Her success comes from her work ethic.
"Everybody knows who Avery is," Meyer said. "Every coach for every team we have played has known who Avery is."