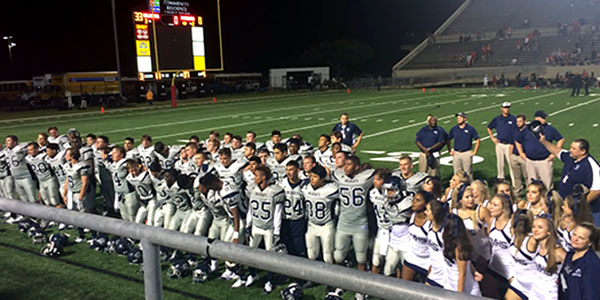 With a dominating first performance, the Wildcats faced off against the Goose Creek Patriots in a game that resulted in a 33-0 scoreline.  Two touchdowns, including a 39-yard pass from quarterback Dru Baker, and a 30-yard field goal from kicker Enrique Carmona lead to a score of 17-0 at the end of the first quarter.  Another field goal in the second quarter increased the lead to 20-0.
Halftime entertainment included the Silver Stars' routine to 'Uma Thurman' by Fall Out Boy, which was also the song of choice for the other school's drill team, and a performance of the first movement of the Roarin' Blue Band's contest show, Emotions, which went on without the front ensemble because of weather conditions.  The game itself was delayed an hour after a shelter in place was put into effect, due to severe lightning and storms in the Baytown area.  
The second half saw two more touchdowns and an interception, with an outstanding performance from fullback Connor Baumman, leading to the final score of 33-0.  Baker was also recognized in The Houston Chronicle for his achievements.  This week, the Wildcats will play New Caney at their first home game.