Wildcats 'Lei' Out the Eagles, Improve Record to 2-0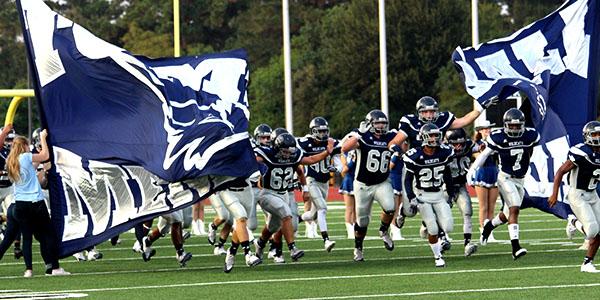 The Wildcats won their first home game of the season, 41-34, against the New Caney Eagles, achieving a 2-0 record for the first time in school history.
By the end of the first quarter, the Cats were up 7-0 with a touchdown from quarterback Dru Baker.  The second quarter began with a 55-yard touchdown from the Eagles, followed by a 33-yard run from the Wildcats, and a 40-yard field goal from kicker Enrique Carmona.  Another touchdown put the halftime score at a 24-7 lead.
The third quarter began with a short field goal, followed by a 4-yard touchdown pass from Baker that increased the score to 34-7.  
An action-packed fourth quarter ensued, with the Wildcats scored their final touchdown in the final five minutes of the game.  The Eagles made a comeback by scoring two touchdowns, including one from a 50-yard drive, although they missed out on an extra point.  With two minutes left to go, the Wildcats left out a 42-yard field goal, resulting in the final score of 41-34.
Before the game, school spirit was raised with a pep rally at the end of seventh period.  Students were encouraged to dress in a Hawaiian theme to 'lei' out the Eagles.    
Next week, the Wildcats will face off against the Galena Park Yellowjackets at home.