Football Teams Dominate Opponents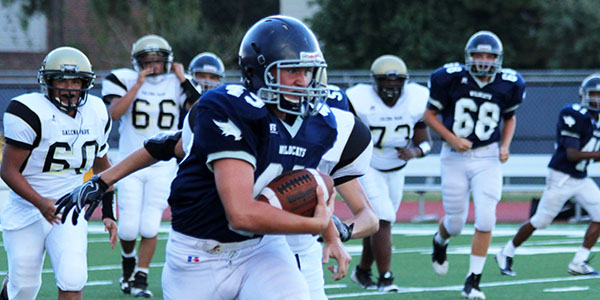 Last week, the JV and Varsity Wildcats played Galena Park. Both games ended in victories, setting the school record to 3-0. The JV Wildcats had an outstanding defensive game with two interceptions and one pick six from Nick Alspaw. At the end of the first half, the Wildcats claimed the lead with a touchdown catch from Malachi Miranda, followed by a successful extra point kick. By the end of the third quarter, Nick Alspaw scored a pick six to put the game out of reach for the Galena Park Yellow Jackets. By the end of the fourth quarter, the Wildcats drove down the field and ended the Yellow Jackets perfect record; making them 2-1. The Wildcats are playing Huntsville in two weeks for the first division game. The freshman teams won against the Yellow Jackets as well. 
The sophomore Wildcats traveled to Shadow Creek and won with a score of 24-21. They played to their best ability and won the game with a fourth quarter kick by Ernest Carmona. This win made the sophomore Wildcats 2-1. The Wildcats are going to face off with Shadow Creek again in two weeks.