JV, Sophomore Football Teams Win Against Magnolia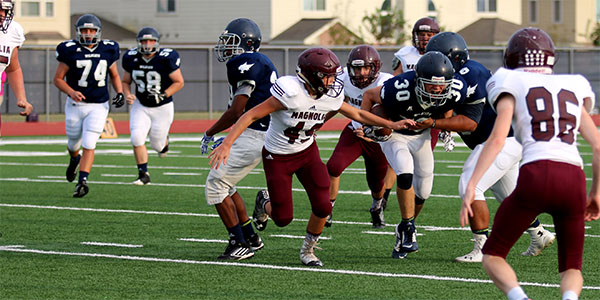 The JV football team played Magnolia High School at home last night. After a great performance from the defense, Wildcats won 31-0.
In the first quarter, Wildcats slowed the Bulldogs offensive when scoring their first touchdown on a fumble recovery.
In the second quarter, the Wildcats drove the Bulldogs down along the field with a successful 31 yard field goal by sophomore Wesley Glouchkov. At the end of the half, the Wildcats were leading 10-0.
At the start of the third quarter, Wildcats drove down the field again and scored another touchdown.
The Wildcats were leading at the beginning of the fourth quarter with a score of 24-0. In the fourth quarter the Bulldogs threw a interception to Jesus Maravillo which led to Wildcats ending the game with a win. The JV team is now 7-1.
The sophomore team also played and beat the Bulldogs with a score of 48-0. Wildcats dominated the field as they only allowed two first downs. The offense scored 28 points in the first half. They are now 7-1 as well.