Sancho-Spore Siblings Take on Cross Country Regionals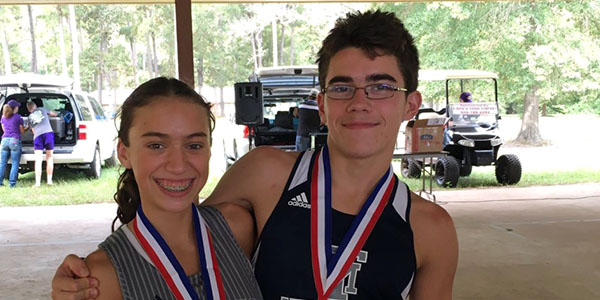 Update on 10/29/16 – Anthony qualified to advance to the state meet. Congratulate him if you see him around campus.
This year, two varsity cross country members have qualified to move on to compete in the regional competition, which will be held at Kate Barr Ross Park in Huntsville. The two competitors are siblings freshman Christina Sancho-Spore and senior Anthony Sancho-Spore. This is the first time siblings have qualified together, and the runners are very proud to be representing the school at this meet.
"We are extremely proud and honored to be able to represent TISD at regionals this season," Anthony said. "As a senior, I'm sad to see my last cross country season and high school begin to go, since TMHS is the best 5A school around."
Anthony has been a member of the cross country team since freshman year, along with swim.
"It would be nice to go to state this season, though we don't believe that's very likely since this is both of our first times qualifying," Anthony said. "I'm glad my sister still has three more opportunities to make it, and my only regret would be not making it during my past seasons."
Upperclassmen have inspired and motivated Christina Sancho-Spore, helping her to achieve the feat of qualifying for regionals.
"If it weren't for my teammate Katie Jennings, I wouldn't be at this level today," Christina said.
Cross country has had one it's most successful seasons since the school has opened this year.
"We've had an amazing team this year," Anthony said. "Our district was the fastest in the state for 5A, but we still managed to hold our ground."
Quite a few members have suffered injuries this year, but have not let them get in the way of supporting their teammates.
"Katie Jennings suffered an achilles injury during the beginning of the season, yet she came to every meet," Anthony said. "Support from our teammates motivates us to keep working hard."
Coach James Woodard is coaching cross country, along with soccer, for his first time this year. Members enjoy having him as a coach due to his style of leadership.
"Coach Woodard has done an amazing job whipping everyone into shape, and has enhanced our sense of being a team by reminding us that there's no I in team," Anthony said. "If he remains the cross country coach, there is no doubt in my mind that the cross country team will be a force to be reckoned with in the near future."
Wish these siblings good luck before they race this Saturday.