Teams Play Thursday Night Football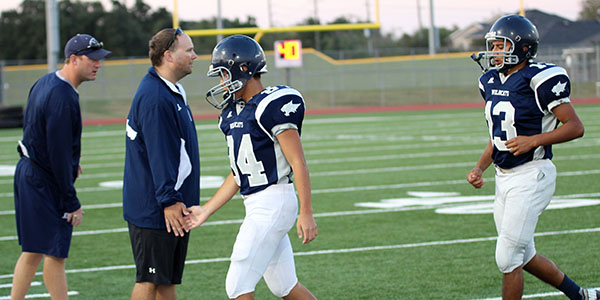 The JV team traveled to Waller last night for their sixth district game. After a close fourth quarter, the team lost to the Waller Bulldogs. In the final seconds of the game, the Bulldogs kicked a field goal to win by two points. In the first quarter, the Wildcats scored a touchdown on their opening drive. In the second quarter, the Wildcats scored another touchdown after the Bulldogs scored. The score before the third quarter was 13-7. At the beginning of the third quarter, the Bulldogs scored on their first drive of the half. The Wildcats drove down the field on their next possession but were stopped short, settling for a field goal, making the score 14-17. After a huge stop on defense during the beginning of the fourth quarter, the Wildcats moved the ball down the field for a touchdown making the score 24-14. After the touchdown, the Bulldogs divided the Wildcats defense and scored another touchdown. With five seconds left on the clock, the Bulldogs called a timeout and kicked the field goal to win the game. The final score was 24-26, and the JV team is now 7-2.
The sophomore team traveled to Clements last night. In the first quarter, the Rangers caught the Wildcats off guard scoring quickly on a busted play, but the Wildcats responded quickly by scoring a touchdown. In the first half, the Wildcats scored 14 points. In the second quarter, the Wildcats scored more, bringing the score up to 28-6. The team ended the game with a win of 50-6.
The freshman team also played Waller last night at home. After a long defensive matchup, the game resulted in a tie. The freshman team is now 5-3-1.