Wildcats Win Against Waller Bulldogs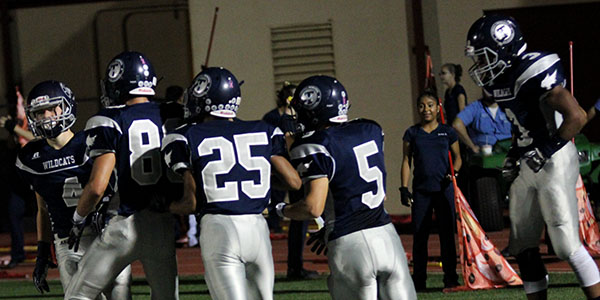 The varsity football team played Waller at home Friday night and won with a score of 43-29. In the beginning of the first quarter, the Wildcats missed a kick return as the Bulldogs led 7-0. The Wildcats then responded with a drive to tie the game.
At the beginning of the second quarter, Dru Baker ran the ball down the field. The Waller Bulldogs responded with a mid field kick return. The Bulldogs drove the Wildcats down the field and tied the game by making the score 14-14. The Wildcats then scored a touchdown pass, made by Dru Baker. The score was now 21-14. The Bulldogs efforts to march down the field were stopped short by a 61 yard pick six by Bryce Perkins, which ended the half with a score of 28-14.
In the third quarter, the Wildcats scored another touchdown, making the score 35-14. The Waller Bulldogs then scored two touchdowns, bringing the score to a touchdown difference.
With 8 minutes left in the game, the Wildcats led with a score of 36-29. After another touchdown,the Wildcats defense ended the game with a score of 43-29. The Wildcats are now 5-4. Come support them next week as they take on Tomball at the annual Patriotic Show.