Wildcats Overtake the Cougars in Overtime at the Patriotic Show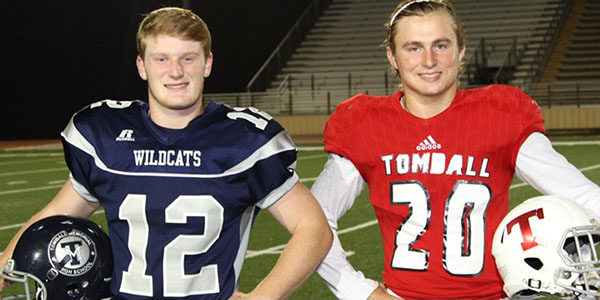 For the fourth time running, the Wildcats defeated the Cougars in the annual Patriotic Show football game in overtime with a final score of 34-28.
By the end of the first quarter, the Cats held a 14-0 lead over their crosstown rivals thanks to two exciting touchdowns.  By halftime, Tomball began to make a comeback but were still held back 21-14.
The second half saw a head-to-head battle for domination, going from a third quarter score of 28-14 for the Wildcats to overtime after the fourth, because of a last-minute touchdown from Tomball.
In overtime, the Cats successfully made a touchdown and prevented the Coogs from stealing their title with a final score of 34-28.  
The Wildcats not only improved their record against Tomball to 4-1, but they also finished fifth overall in their district this season with a record of 6-4;  the Cougars ended their football season at 2-8.  Not only did Varsity defeat their rivals, but the sophomore team won 12-6, finishing their season 9-1.  Junior Varsity also triumphed the Coogs 28-0 to finish strong with an overall record of 8-2.
"We had a tough district, but we were a lot better as a team this year," quarterback junior Dru Baker said.
Before the big game, the entire school came together to motivate the team in a pep rally which included a lip sync battle and performances from the hip-hop dance crew Ohana, the Silver Stars, and the cheerleaders.  The Roarin' Blue Band provided musical accompaniment with the playing of the school song, the fight song, and the national anthem.
"Pep rallies always bring a lot of energy to everybody," sophomore Juliette Chojnacki said.  "For big games like the Patriotic Show, they make a really big difference."
The district had an opportunity to come together and put aside rivalries in the halftime show, which saw the Silver Stars dancing alongside the Charms to music played by both schools' bands, as well as a performance by both of the choirs.
"It's always really special," senior Ashley Alario said.  "Seeing the district come together while still keeping the rivalry alive will always be something that I remember after I graduate."