Curse to be Broken at Hohlt Park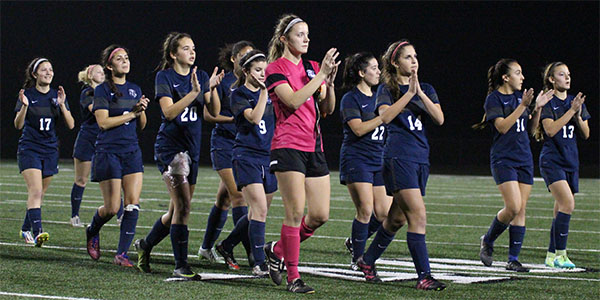 A park where birds chirp, flowers bloom, and tears flow. This is a park where Wildcat dreams of a state soccer playoff run have ended.  The Lady Wildcats' soccer team has yet to reign victorious at Hohlt Park.  
While most years have had an easier match in the first round, this year will be different.
"This match is going to be much tougher," junior Lady Wildcat Kelsi Gibson said.  "We usually play against an easier team in the first round.  This year, we are pretty evenly matched."
With a tough match right out the gate, the Wildcats will need a few special skills in order to continue this playoff run.
"Strength, positivity, and confidence in ourselves are all needed for us to succeed," Gibson said.
Their playoff experience should help keep them calm and collected.
"A lot of us have advanced to the playoffs during the last two years," Gibson said. "We have been in that stressful environment and know what to expect in the playoff matches."
Hohlt Park does hold a certain negative connotation for the Lady Wildcats' soccer team.
"This is where we've had our hardest games. We've lost each game there," Gibson said. "It's scary for us, but we need to face our fears.  Once we show up, we will want to beat the curse."
This year the Wildcats are determined.
"We need to go into the game even minded," Gibson said.  "Not cocky, but confident in our abilities."
While previous years have left the Wildcats with their heads hanging low, this year they expect to have their heads high and smiles from a victory.
"The team chemistry is a lot better this year," Gibson said. "This enables us to have greater faith in each other."