Undefeated Freshman Tennis Player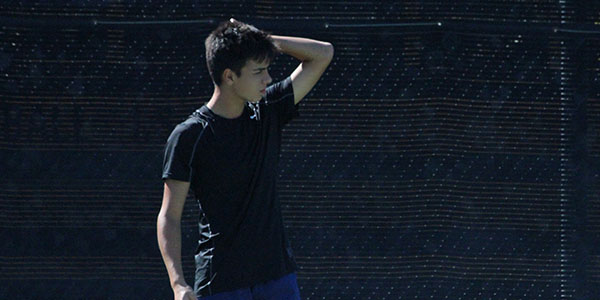 Santiago, "Santi",  Obando is an undefeated tennis star this season.
Santi is a freshman and is a member of the tennis team, going for gold in every tournament this season.
"I've been playing since I was four years old," Obando said.  "My dad wanted me to play and he was my coach; after a while, I really started to like playing."
Obando always has his head in the game, focusing on what he has to do in order to win matches.
"I always give my best and try my hardest," Obando said. "I concentrate on what I can do to become a better player."
Santi's coaches feel that he is special to the team. Other players look up to him as a player, and as a friend.
"It's great to see such a young individual playing so well on the court," assistant tennis coach Elizabeth Alfaro said. "He inspires other players to work hard like him."
Obando works hard on and off the court to ensure a win at each tournament.
"When we do activities during class or practice, he works above and beyond what we expect," Alfaro said. "I can tell that he really takes practice seriously."
Obando practices two hours a day to ensure success.
"During every match, he has confidence that he will win," head tennis coach Christopher Herbert said. "His attitude is part of the reason why he's such an asset to our team."
Next year, Obando will attend a tennis academy so he can focus solely on playing tennis.
"I love tennis because I love the competition," Obando said.
Obando is going to continue playing and trying his hardest so he can get into a good college.