Guindon Sisters Push Through Recovery Process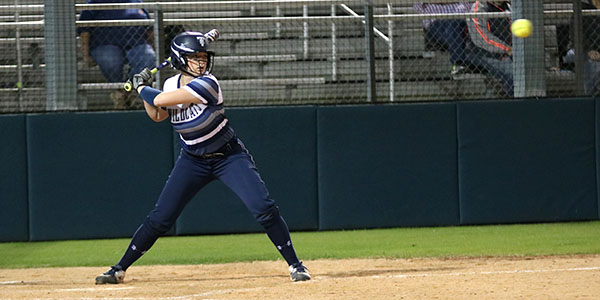 It is March 7. She steps up to bat for the first time since her car accident; a new person and athlete. She swings and gets a strike. Though she doesn't hit the ball, Emma Guindon is fully recovered and feels the adrenaline for the first time in months.
"As of now, I am fully recovered physically," Guindon said.
There was nothing unusual about Emma's recovery; it was everyone's encouragement that made all the difference.
"I didn't do anything special; it was all the prayer from everyone that helped me recover," Guindon said. "God was with me the whole time and helped me battle through everything I faced."
She believed in God, trained, and practiced to achieve her goal of a total recovery.
"I stood by what I believe in and let God take care of everything; all I did was train and practice to get where I am now," Guindon said.
So far this season, Emma has pitched 20 innings without giving up a run and has hit three home runs in four games.
Though Emma is now fully recovered, her sister Olivia is still in an intense recovery process.
Olivia had to spend 77 days in the hospital and a physical therapy center, causing her to lose over 20 pounds. The accident caused some damage to her brain, making it hard to remember some things throughout the day. Olivia's jaw was broken, putting her onto a soft food and drink diet until she fully recovers. This makes it difficult for her to maintain the recommended 3000 calorie diet, but she is pushing through it.
"You have to understand, I want to be the best catcher that ever played softball, so we have work to do," Guindon said to her physical therapist.
The worst news came from her doctor when she learned that her gum chewing days are over. No more gum, ever.
"If that is the worst thing that comes from this, then I am okay with that," Judy Cintron, a friend of the Guindon family said.
Guindon is a fighter. Three months after leaving the hospital, she is up to training five days a week to get back in shape.
"I don't want to take baby steps," Guindon said.
Friends and family of the Guindon's continue to pray and encourage the sisters through their struggles. Their total recovery will take time, but that day will come nonetheless.
"I pray for total brain healing, Olivia's jaw to improve, and Emma's headaches to subside," Cintron said.
You can support the Guindon sisters and read updates about them at https://www.caringbridge.org/visit/olivia-and-emmaguindon/journal/view/id/58eec9d38b5cd3e10b70d1c5
#guindonstrong