Buzzing with Excitement Over 2-0 Record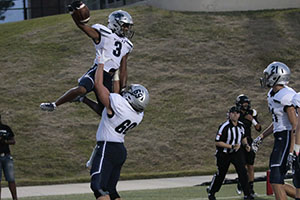 With a final score of 47-14, the varsity football team won their second game of the season against the Galena Park Yellowjackets, putting their record at 2-0.
The first quarter started with a bang off of the first play when senior Dru Baker ran 72 yards for a touchdown 18 seconds into the game.  Junior Jordan Grice caught a 59-yard deep pass from Baker, followed by a 20-yard pass from Baker to junior Christian Lovick.  The Wildcats ended the action-packed quarter in the lead with a score of 20-0.
In the second, Lovick ran 54 yards for a touchdown, with Galena Park scoring their first touchdown of the game and missing their extra point.  Lovick caught a 21-yard pass from Baker for another touchdown, bringing the halftime score to 34-6.
Senior Reggie Robinson ran both touchdowns of the third quarter — the last one two seconds before the clock ran down — raising the score to 47-6.  The scoreboard erroneously displayed 46-6, with 46 points remaining for the Wildcats until the end of the game, when the Yellowjackets scored their last touchdown and a 2-point conversion to finish Friday night's score 47-14.
This week is a bye week for varsity, freshmen navy, and junior varsity navy.  On Thursday, the freshmen silver team will play College Park at home at 4:30 p.m. and the junior varsity silver team will also play College Park at 6:00 p.m.  Senior Night, which was missed because of Hurricane Harvey, has been rescheduled for Oct. 27.  Varsity will next play away at the Huntsville Hornets, who are also 2-0, on Friday Sept. 29 at 7:30 p.m.