Wildcats Lose Close Game to Huntsville 21-24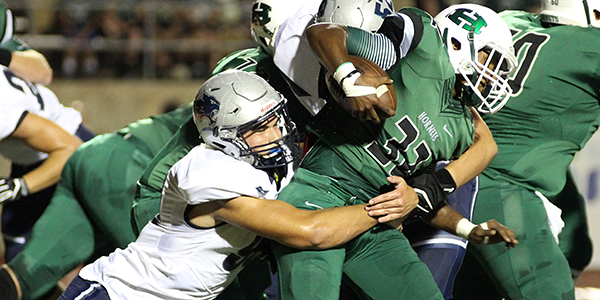 On Friday night, the Varsity football team embarked on a nearly hour-and-a-half bus ride to Huntsville, north of Houston, and lost 24-21 against the Huntsville Hornets at the Sam Houston State Bowers Stadium.
The first quarter was fairly uneventful, with Huntsville leading the Wildcats, who didn't score until the second quarter.
During the second quarter senior Dru Baker was tackled and helped off the field by the trainers, who later reported a rolled and partially sprained ankle. Since he was out for the rest of the game, junior Jordan Gidrey filled in for the remainder of the game.
At half-time, the Wildcats gained on the Hornets 14-7. In the third quarter, Gidrey ran a 30-yard touchdown to tie the game at 14-14, which lasted until Huntsville scored another touchdown.
Nearing the end of the game, junior Jordan Grice caught a 42-yard touchdown pass from Gidrey, narrowing Huntsville's post-field goal lead to only 3 points at 21-24.
As the clock ticked down, the Wildcats recovered a fumble on Huntsville, racing towards the in-zone. A flag was called on the Wildcats for unsportsmanlike conduct, but they were still given the ball.
At fifteen seconds, the game was called with a Huntsville win 21-24.