Heartbreaking Homecoming Game Sees Wildcats Lose to Mustangs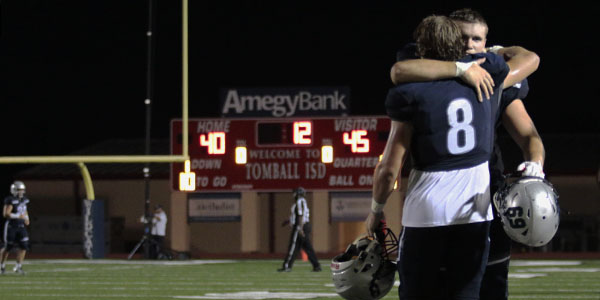 Last Friday, the Varsity Wildcats faced off against the Magnolia West Mustangs in their homecoming game and lost 40-45 in the last quarter, putting the Cats' overall record at 2-2.
The Wildcats started the first quarter with a bang when junior Jordan Gidrey ran 80 yards for a touchdown, putting the score at 6-0 over the Mustangs.  Later on, Mag West retaliated with a touchdown and successful extra point, stealing the lead at 6-7.
An eventful second quarter began with a 65-yard pass for a touchdown from senior Dru Baker to junior Jordan Grice and a successful PAT from senior Enrique Carmona.  The Mustangs took back the lead with another touchdown until Dru Baker scored the Wildcats another six points, making the score 19-14.  In the dying minutes of the second, the Cats bagged another touchdown and Mag West kicked a field goal to end the first half with the boys in blue leading at 26-24.
The Mustangs began the third quarter with a touchdown, answered later on by Baker throwing 23-yards for a touchdown to Grice, putting the scoreboard at 33-31 for the Wildcats.
Mag West scored a touchdown early in the fourth quarter, going for a two-point conversion to be ahead of the Cats at 33-39.  Baker threw 15 yards for a touchdown to Grice, with Carmona's PAT putting the Wildcats ahead by a hairline at 40-39.  The Mustangs drove ahead, scoring a touchdown with just over three minutes left in the game to make the final score 40-45.  On their PAT attempt, the Wildcats' defense managed to stop Mag West from stealing another point and ran about 40 yards until the play was stopped.  The last few minutes saw Baker try many attempts for a touchdown, with no success for the Cats in their homecoming game.
Although Mag West won, the Wildcats had 277 passing yards to the Mustangs' 161.  Memorial had 127 rushing yards to Mag West's 276, bringing the two teams to 404 and 437 total yards, respectively.
At halftime, senior Elise Collins was crowned as Homecoming Queen alongside senior Bryce Perkins of the Varsity football team.