Last Minute Loss to Cubs Brings Record Down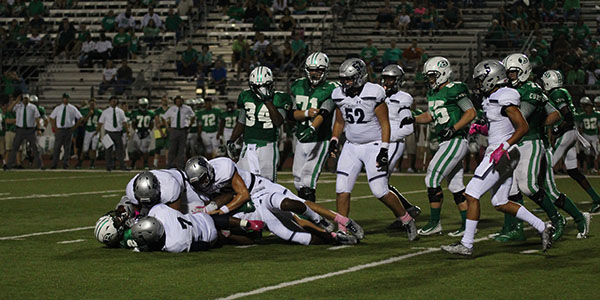 The Varsity football team (2-3) lost 64-61 to the Brenham Cubs (4-1) in their highest-scoring game of the season at Cub Stadium.
Brenham took the lead in the first quarter with two successive touchdowns, answered by senior Dru Baker's 75-yard pass to junior Jordan Grice to put the scoreboard at 14-6.  In the last minute of the quarter, the Cubs ran for a touchdown, and a Wildcat touchdown by junior Jordan Gidrey was called back by refs.
In the second quarter, Brenham scored two more touchdowns and Baker handed the ball off to senior Bryce Perkins, who ran 54 yards for a touchdown.
Heading into the third quarter down 28-13, the Wildcats quickly energized the crowd by scoring three touchdowns to stage their comeback, including Baker's 26-yard throw to Perkins and 60-yard pass to sophomore Logan Kyle.  Senior Enrique Carmona successfully kicked every extra point, but it wasn't enough to prevent Brenham from stealing the lead and making the score 35-34 with yet another touchdown.  Junior Christian Lovick ran the ball for the last touchdown of the quarter, ending the eventful third in the lead at 35-41.
The fourth quarter was a back-and-forth between the Cubs and the Cats.  After Brenham's first of four touchdowns in the quarter, Baker threw 43 yards to Kyle to bring up the score to 42-47.  The Cubs bounced back with another touchdown, but the Wildcat defense prevented any extra points from being scored.  A 43-yard pass from Baker to Gidrey and a 2-point conversion pulled the Cats back into the lead at 48-55.  With less than three minutes on the clock, Brenham scored another touchdown and a 2-point conversion.  Kyle scored his third touchdown of the game from Baker's 72-yard pass, putting the Wildcats up 56-61.  Heartbreakingly, the Cubs rallied in the last 13 seconds and scored not only a touchdown to tip them over the edge but also a 2-point conversion, ending the game at 64-61.
This Friday, the Wildcats travel to face off against the Willis Wildkats (1-4).