Wildcats Capture Victory Over Magnolia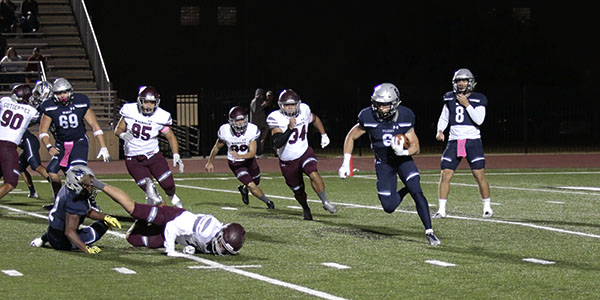 In the second home game of the season, the Varsity football team defeated the Magnolia Bulldogs 48-39 to improve their district record to 2-3.  The Wildcats finished with 215 passing and 335 rushing yards.
The Bulldogs took the lead at the beginning of the first quarter but missed their PAT.  Senior Dru Baker threw 26 yards for a touchdown to senior Bryce Perkins to pull the Cats ahead at 7-6, thanks to a successful PAT from senior Enrique Carmona.
In the second, Baker ran 80 yards for a touchdown and later connected with junior Jordan Grice to make the halftime scoreboard read 21-20, following two touchdowns by Magnolia.
Late in the third, junior Christian Lovick scored a 19-yard touchdown to extend the gap to 28-20, matched by another touchdown from the Bulldogs and another unsuccessful PAT.
Baker scored a 2-yard touchdown run early in the fourth quarter, making the score 34-26.  Lovick ran for a 7-yard touchdown after a Magnolia touchdown, keeping the Wildcats in the lead at 41-32.  The Bulldogs ran for an 85-yard touchdown, narrowing in on the Cats until Lovick ran for a 32-yard run, ending the game at its final score of 48-39.
This home game also served as Senior Night, in which seniors from all organizations involved in Friday Night Lights were recognized before the game.  The Tomball Patriots and Liberty Belles also participated in pre-game activities.
The Wildcats will face off against the Waller Bulldogs at 7:30 pm.  Last season, the Cats beat the Bulldogs 43-29.  Students are encouraged to wear navy and come out to Waller ISD Football Stadium to support their football team.