Senior Football Player Recognized for Defense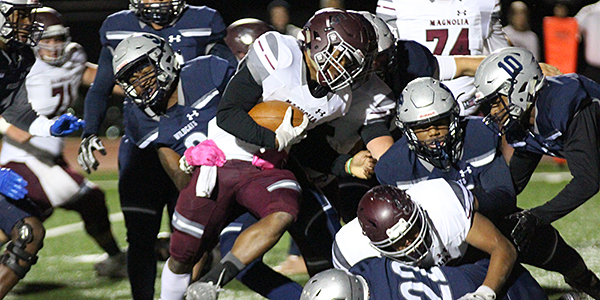 According to MaxPreps.com, senior Jordan Johnson is the District leader in defensive tackles for Varsity football.
"It's important for me to know this stuff so I can market myself to college coaches," Johnson said. "I try to keep up with my stats on MaxPreps, especially."
Alongside the rest of the Varsity Wildcats, Johnson has worked hard for what he's earned, practicing regularly and bringing his best to every game.
"I practice everyday except Sunday," Johnson said. "We practice tackling to covering receivers and reading formations, so we can be ready for the game on Friday."
Football is an exciting hobby, but for Johnson, it's about more than just having fun.
"I'm inspired by my mother because she works really hard for my family," Johnson said. "I want to give back to her by earning a full ride scholarship."
Both parents play an instrumental role in how hard Johnson works for his endgame.
"My father also played college football at Baylor University," Johnson said. "I'd love to follow in his footsteps."
As the whole school prepares for the Patriotic Show, Johnson and the football team ready to take on their arch rivals.
"I know the whole town is going to be at Patriotic Show, so I need to bring my A-game," Johnson said. "There will be college scouts so I need to stand out for them to notice me."