Patriotic Show Rallies Community, Ends Winning Streak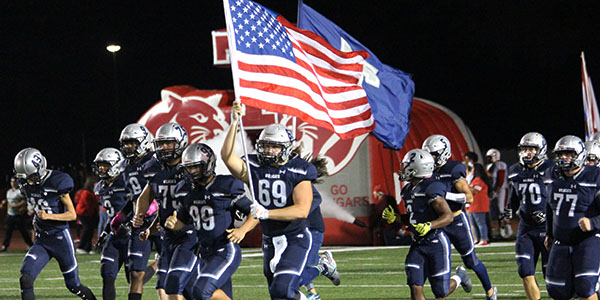 In what may have been the last cross-town rivalry Patriotic Show for years to come, the Varsity football team fell to the Tomball Cougars 35-38, ending the Wildcats' four-year winning streak.
The first quarter saw the Coogs take the lead, putting the scoreboard at 7-21 as the second began.  The Cats caught up with two successive touchdowns, evening the score out to 21-21.  Tomball rebounded to take the lead, tied once again by a 2-yard run by junior Christian Lovick.  The Cougars scored their last touchdown of the game to end the first half with the Wildcats trailing 28-35.
In the third quarter, senior Dru Baker threw for a 9-yard touchdown to senior Bryce Perkins, tying the game at 35-35.  With three minutes left on the clock in the third, the Cats defensive line forced Tomball to kick a field goal, bringing about the final score of 35-38.
Controversy ensued after a Wildcat touchdown was called off by the refs and also when the clock ran down from nine seconds to two in the dying moments of the game.
Once time ran out, the sea of red on the visitor's side erupted as Tomball celebrated their first victory against the Cats since 2012, in stark contrast to the shocked silence of the Navy Empire.
The final record of the Varsity football team this year was 5-4 overall and 3-4 in District.  The Cougars finished 7-3 overall and 4-3 in District under head coach Kevin Flanigan.
At halftime, the Patriotic Show honored community veterans with a special performance by both schools' marching bands (both of whom competed at the State UIL Marching Contest only days before) and drill teams, with special appearances made by paratroopers bearing the American flag.