Diving into New Waters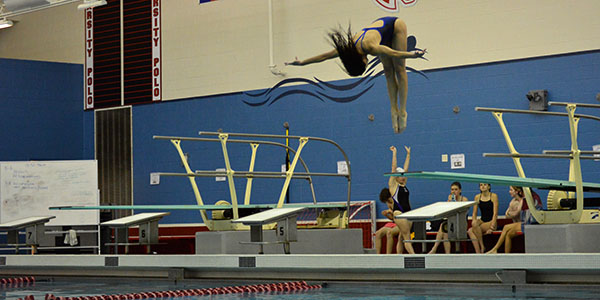 In and out, she breathes slowly. The natatorium is filled with onlookers and judges waiting silently for her to dive. She bounces a little on the edge of the board seeing the water below her. And then she jumps.
Senior Anna Litton has virtually no experience in diving, that is, before this year. Nevertheless, she has broke school records and won several awards before the first semester has even ended.
"It's been so fun being involved in our school and athletic program," Litton said. "I'm so thankful to have the support of my friends, family, and teachers."
Litton only joined diving her senior year, because in the past she has been to busy training as a gymnast.
"Coach Almanza introduced me to the idea of diving my freshman year but I couldn't commit," Litton said. "She talked to me about it at orientation again, and I was looking for a new sport to do so I decided it was a good time to give it a try."
The sudden switch from the gym to the pool is due to a devastating injury to Litton's elbow.
"I dislocated it and had to get surgery earlier in the year," Litton said. "The recovery took longer than expected, and after 14 years I wouldn't be ready to compete the next season."
Swimming Coach Norma Almanza had Litton as a student in her freshman biology class, and has asked her to join the diving team every year since.
"I decided to ask her this year, even though she was a senior," Almanza said. "That's when I found out she wasn't doing gymnastics anymore."
Litton's natural talent in the pool probably comes from the fact that diving runs in the family.
"Her mom apparently dove when she was in high school," Almanza said. "And so she had been trying to push her into doing this as well."
Coming into a sport that she has little to no experience in, Litton wasn't sure what to expect, but her flexibility and body awareness from gymnastics helped.
"She's doing really well," Almanza said. "I've just been watching her take the steps that she knows from gymnastics and apply it to diving."
Although she's had to adjust from the full-twist in gymnastics to the half-twist in diving, Litton is still making strides.
"She set a dive record," Almanza said. "Then she broke her own dive record."
In addition to her elbow, Litton has endured more minor injuries in the past to her back and knees.
"The pain has definitely made me stronger, physically and mentally," Litton said. "If you stop or complain after every injury you'll never move forward."
Although diving is differs from gymnastics in many aspects, the athleticism is the same. The perseverance Litton learned as a gymnast has transferred to diving with her.
"Going through those things definitely pushed me to continue to strive for excellence and stand back up after every fall," Litton said. "In diving it's pretty common to smack the water hard, but I know to just suck it up and try again."
Despite the fact it is still very early in Litton's first season diving, she has already gained recognition on many levels.
"I have had eight dive meets so far and received first place in six," Litton said. "I have also broken the school record for a six dive list and 11 dive list."
The transition from gymnastics to swimming has been a large shift for Litton, but she considers herself lucky to have all the support she does.
"I've come across some amazing people and coaches throughout my athletic career," Litton said. "They believed in me when I didn't believe in myself, and are the reason I continue to push myself in everything I do today."