Senior Athletes Sign on to Collegiate Level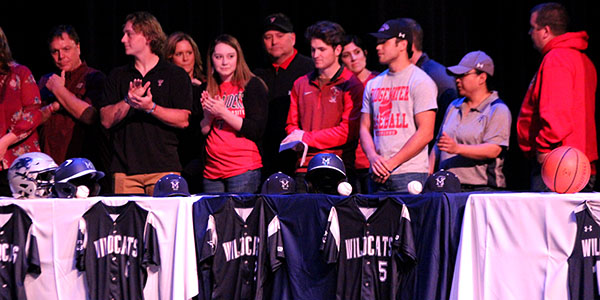 This afternoon introduced the first official athletic signing the school has ever seen, with approximately 21 senior athletes participating in total, and was hosted by Head Coach Sam Parker.
Each honored student was escorted onstage, in the auditorium, by their respective parents, at a table decked out with their sports jersey. They all wore t-shirts associated with their future university or the colors of that university.
The ceremony included an invocation, introductions made by individual coaches, follow-ups by the students themselves, a slideshow featuring baby as well as sporting pictures, and the actual signing itself.
Albeit the signing was held during fifth and sixth period, many students were excused from class to cheer on their teammates and/or close friends and family. Also in attendance were Superintendent Dr. Martha Salazar-Zamora, principal Mr. Smith, the district athletic director, and the rest of the faculty and coaches.
Among others, some of the several colleges represented were Houston Baptist University, West Point United States Military Academy, Texas A&M University, and Texas Tech.