Fresh Blood in the Water
The buzzer sounds, signaling the start of a new half as the fastest players race towards the ball, determined to reach it first.  Immediately, the goalies watch the ball zip around with hawk-like vigilance as their teammates thrash in the water, dunking each other under as they battle for dominance.
By popular demand, the first ever water polo team in school history was established this winter. To begin the team, swimming coach Norma Almanza had to receive approval from Mr. Smith and convince enough students to register.
"I was the main swimmer working along with coach Almanza in starting the team," senior C.J. Fortune said, "I wanted to help share my love of water polo with others."
The team consists of eleven members that practice every Monday, Tuesday, and Thursday at the Tomball Aquatic Center to strengthen their skills.
"We have mostly competed against the Cy-Fair schools," sophomore Jacob Colunga said. "Considering it's our first year, we've done pretty well."
Recently, the team has set a district record of 2-1 and has secured a spot in postseason. The team hopes to advance in the state tournament in the future.
"Our goal is to recruit more players just for the Swim and Dive team," Fortune said. "In turn, we can have more members for Water Polo."
To be a player on the team, students only have to be a part of the Swim and Dive team and pay a fee.
"For those who are hoping to join the team, my advice is to get comfortable in the water and build up stamina," Fortune said."Water polo is such a physically demanding sport."
About the Writer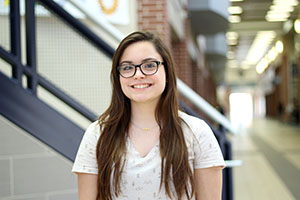 Kasey Durham, Staff Writer
Hey. I'm Kasey Durham and I'm a sophomore. This my first year on the TMHS Post staff. Along with newspaper, I'm also a technician for the TMHS Wildcat...