Girls Soccer Team Crowned Area Champs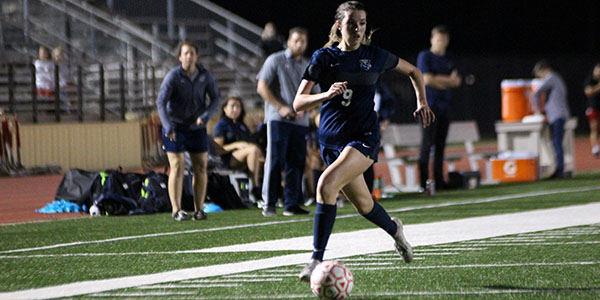 UPDATE:  The Lady Wildcats lost their third-round playoff game to Cedar Park 1-o in Bastrop, ending their road to State.
To reach that round, the girls' soccer team beat the Whitehouse Wildcats 2-0 in Lufkin on Tuesday, April 2.  Goals from senior Savannah Keziah and junior Briana Beaty (and another clean sheet from goalkeeper senior Kelsi Gibson) helped secure their title as Area champions.
The Lady Wildcats won their first playoff game 3-0 on March 30 against the Hutto High School Lady Hippos in Brenham, where freshman Alexa Riddle netted two goals and sophomore Sarah Guilstorf scored the other.
Finishing with a record of 11-1-2, the girls placed second overall in District, racking up 49 goals and conceding only five.
The boys soccer team did not advance to playoffs, but some players made the drive to support their female counterparts in Lufkin and Bastrop.