Baseball Prepares for Next Round of Playoffs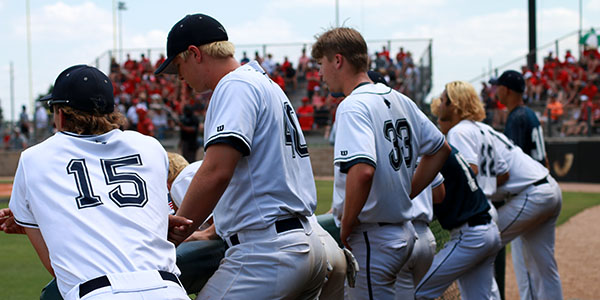 Varsity baseball is heading into their fourth round of playoffs this week, playing at Barbers Hill while classes wrap up at home.
"I'm way more excited for this next playoff game than nervous," senior Sage Stewart said. "We've been waiting for this for a long time."
The advance comes after a long-anticipated win against their rivals, the Tomball Cougars, last week.
"To beat our rivals in playoffs was the best thing that's happened to us so far," Stewart said. "The competition between us has always been strong, so sending them home was great."
In the past, baseball has made it to playoffs three times and gone as far as the fifth round, just before the state tournament.
"My first thought when we advanced to playoffs was that all our hard work had paid off," Stewart said. "This is our time."
To prepare for such a successful and ongoing season, the coaches and team sacrificed a lot of time and energy in training.
"Preparation for this season was off the charts," Stewart said. "We knew we had to step it up to compete for this long, so we changed things up on the field and in the weight room."
For much of the baseball team, whether they win or lose against Barbers Hill will determine if this will be their last game as a Wildcat.
"To advance this far my senior year has been a blessing," Stewart said. "And I intend to go even further."
Not too long ago, the Lady Wildcats also advanced to playoffs, in softball, until a devastating loss against Elgin.
"It was an amazing feeling to advance so far," junior Madison Plaxco said. "We worked so hard and it's great to see that it all paid off."
The Wildcats will face off against the Barbers Hill Eagles this week in the fourth round of baseball playoffs. They will first play at home on Thursday, May 24 at 7:30 p.m. and then at Barber's Hill on Friday, May 25 at 3:00 p.m.  If needed, they will play at the University of Houston on Saturday, May 26 at 5:00 p.m.