New quarterback calls the shots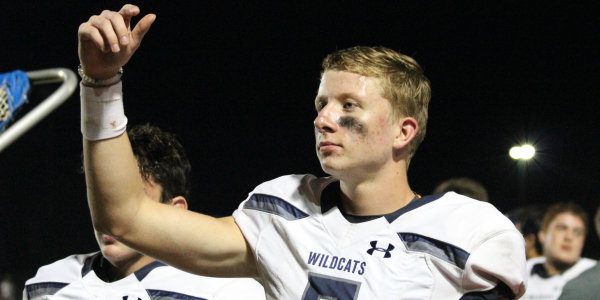 The only sound in his ears is the thudding of his heart. He takes a deep breath; this is the moment he has been waiting for. The sound of screaming and cheering pours in through the door, the only thing separating him from his opponents.
In less than one semester, junior Chandler Galban has instantly fit in with the football team as their new varsity quarterback and quickly filled the void previous quarterback Dru Baker left. Galban, number seven on the field, transferred from a 4A high school near Austin, Texas, and he has played football since he the age of six.
"Football is my life," Galban said.
New to this school, Galban is still getting used to the way football runs here and catching on quickly. Already, Galban has a Patriotic Show win tucked under his belt.
"Coming from a different system, he needs to understand what we're trying to do and where we're trying to go," Wiesmann said. "I think he's going to be great. He just needs some time at it."
Additionally, he has already established relationships with the coaches that he works with in practice.
"Coach Parker keeps it real," Galban said. "We just click, and I can just talk to him about anything."
Galban has truly bonded with his team over the past few months. 
"He's one of the guys in the locker room," Wiesmann said. "He fits in really well with the seniors, even though he's a junior."
Aside from being the quarterback, Galban is one of the team's biggest supporters.
"He is a really good motivator and hypes everyone up," junior defensive tackle Braedon Nutter said. "He is one of our big leaders."
Although the team faces new challenges this year, as UIL districts have been redrawn and this school is now a 6A school, the team is still fighting for success.
"We've got a lot of seniors that are hungry for wins, so we're hoping we can string some together," coach Scott Wiesmann said. "We're hoping that it starts out with a victory."
The football team has a different stance this season. Their aim is to work harder and play tougher than prior years.
"Our two words are 'desperate' and 'nasty.' We have to treat everything like we're backed into a corner and prepare to be nasty about it and how we play," Wiesmann said. "We have to be super physical throughout the game."
The team collaborates to form plays, and the team depends less on the coaches and more on each other this year than ever before.
"The work ethic of the team is very high. It's very player-led, which is awesome," Wiesmann said. "That means the guys are being held accountable by the other guys, instead of the coaches being held accountable for them, so it's creating a good team atmosphere."
Some players to watch include Jorden Gidrey, Chris Lovick, Nutter, Jordan Grice, Trey Jordan, Elijah Champaigne, and Colbie Habermacher.
"We're going to surprise a lot of people this year," Galban said.
This season started off when Galban played in his first scrimmage for this season against Magnolia last week. The coaches were excited to see what he was made of.
"He made some mistakes, but it's good that we got him in a scrimmage," Wiesmann said. "That way he can learn from them."
Galban devotes a large portion of his life to football and his team, even when the working conditions are unpleasant.
"We practice from 3:30 to six p.m., and it is always extremely hot out there," Nutter said. "But we all push through, because we have to be ready for Friday."
Furthermore, Galban prepares for the games by listening to artists such as Tupac and J. Cole. Rap music serves as his absolute favorite warm-up beats.
"I just listen to chill music to keep me calm and in the zone," Galban said.
Game days are special to the entire team. The band of brothers come together in the tunnel of smoke and watch the Friday Night Lights as a family before taking the field.
"You know it's game time and you get chills down your spine, especially when the national anthem starts playing,"  Nutter said.
Galban loves the support he receives from his peers at football games. 
"The best thing is the adrenaline rush," Galban said.  "When you're out there, it's just a good feeling. Everyone in the stands. I just love it."
His love for the sport shows through the fact that he has been playing football as long as he's been in school, and he hopes to continue his journey by one day playing for Oklahoma University.
"It's always been my dream school," Galban said. "I love their football program."
He has always played as a quarterback, and he hopes to end up playing in the NFL in the future. Even on his bad days, his drive pushes him forward.
"There are definitely days that you want to quit, but you have to have that motivation to keep going," Galban said.