Wildcats claw down the Coogs in crosstown rivalry spectacular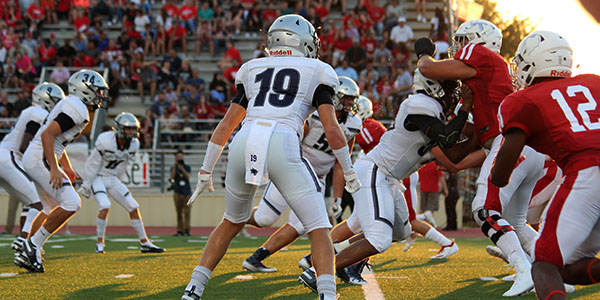 In a fast-paced, exciting Patriotic Show game, the varsity football team defeated their rivals, the Tomball Cougars, by a margin of 41-18 in the August heat, where new quarterback junior Chandler Galban made his debut as a Wildcat.
Three minutes into the game, the Coogs opened the scoring with a field goal.  The Wildcats recovered when senior Jorden Gidrey ran for a touchdown, bringing the score to 6-3 for the end of the first quarter.
In the second, Galban threw a 13-yard touchdown, caught by junior Logan Kyle and bolstered by senior Wesley Glouchkov's extra point to increase the Cats' lead over their crosstown rivals to 13-3 at halftime.
Senior Colbie Habermacher scored the Wildcats' third touchdown of the night with another PAT from Glouchkov. The Cougars responded with a touchdown of their own to end the third quarter by narrowing the gap to 20-10.
The fourth quarter started with a bang as senior Chris Lovick sprang to life and ran for a 47-yard touchdown. Galban and Kyle connected again for another touchdown to bring up the score to 34-10. The last four minutes of the game saw two touchdowns, one from each team to end with a final score of 41-18.
At halftime, the two schools put aside their rivalries to honor veterans in a show starring both drill teams, bands and choirs. After the game, both the Tomball Cougar Pride Band and the Roarin' Blue Band performed their shows; the latter also displayed their new uniforms to the public for the first time.