Wildcats scrape past Klein in high-scoring game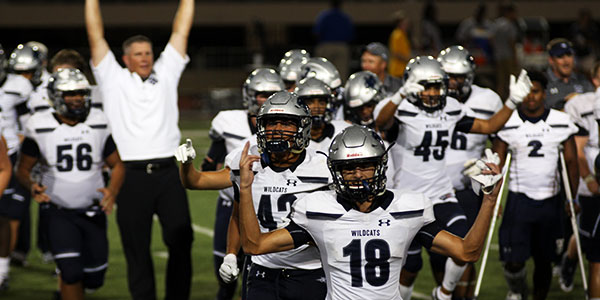 With a last-gasp field goal, the Wildcats defeated the Klein Bearkats 57-56 in their last non-District game of the season.
The Wildcats took the lead early in the first quarter when junior Chandler Galban ran for a 24-yard touchdown, putting the Wildcats up 6-0 after a missed extra point. Klein responded quickly with a touchdown of their own, followed by a 2-yard run from senior Colbie Habermacher and a failed two-point conversion attempt. The Bearkats scored another touchdown before senior Jordan Grice caught Galban's 75-yard pass, ending the first quarter 19-14 for the Wildcats.
Habermacher began the second quarter running for two touchdowns, both for two yards, and increasing the Cats' lead to 33-14.  Klein scored one touchdown before halftime, bringing the scoreboard to 33-21.
Following a kickoff return, the Bearkats started the third quarter with two touchdowns, taking the lead back until junior Logan Kyle caught Galban's pass for a touchdown. Next, Klein scored another touchdown and Habermacher ran 13 yards for his fourth touchdown of the night, sending the Wildcats ahead 47-42 as the fourth quarter started.
Klein bounced back with a touchdown to steal the lead until senior Chris Lovick ran for a 5-yard touchdown, putting the nail-biting race for dominance at 55-49 for the Wildcats. The Bearkats responded with a 60-yard run to recover the lead. With just 25 seconds left on the clock, senior Wesley Glouchkov kicked a 20-yard field goal to seal the Wildcats' second victory as defense held off the Bearkats, ending the high-energy, back-and-forth game at 57-56.
The Wildcats will face the Cypress Woods Wildcats at home on Sept. 14 at 7 p.m. for their first District match.