Wildcats defeat Cy Woods in first 6A District game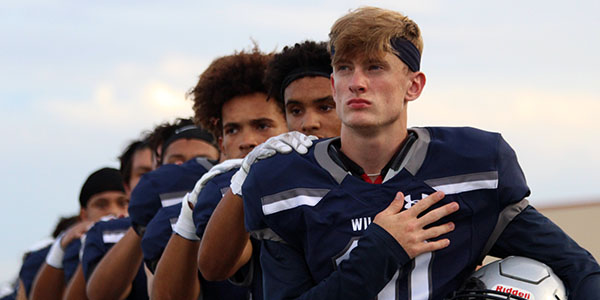 After two non-District wins, the varsity football team came out victorious in their first-ever 6A District faceoff over the Cy Woods Wildcats, winning 55-21.
Junior Logan Kyle lit up the scoreboard 7-0 in the first quarter when he caught junior Chandler Galban's 99-yard touchdown pass. Galban threw another 24 yards to senior Jordan Grice before Cy Woods retaliated with a touchdown of their own, ending the first twelve minutes at 14-7 for the boys in blue.
The second quarter started with a 58-yard touchdown run from senior Chris Lovick. Cy Woods retaliated with two touchdowns, evening out the score to 21-21 until the Navy Empire struck back with a 46-yard run from Lovick and a 4-yard run from senior Colbie Habermacher 14 seconds before halftime, effectively giving the home team a lead of 35-21.
In the second half, the Navy Empire's defense prevented Cy Woods from scoring another point and took possession several times on downs and the opponents' fumbles.
Habermacher started the scoring in the third quarter with a 19-yard run, followed by a turnover and a 33-yard touchdown pass from Galban to Grice. The last touchdown of the game saw Habermacher run for 28 yards, bringing the final score to 55-21 and improving the Navy Empire's record to 3-0 overall and 1-0 in District.
The Wildcats will next play the Bryan Vikings on Friday, Sept. 21 at 7 p.m. at Merrill Green Stadium.