Wildcats improve to 4-0 with victory in rainy faceoff versus Bryan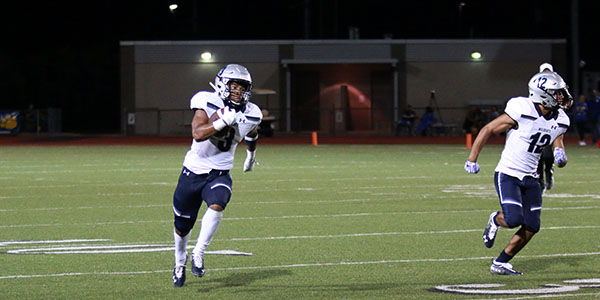 The varsity football team overcame a 30-minute kickoff delay, weather troubles, and a wet field to triumph over the Bryan Vikings 21-14 on Sept. 21, improving their District record to 2-0 and their overall record to 4-0. Currently, the Cats rank 39th in the state and 232nd in the nation.
Bryan took the lead early on with a 12-yard touchdown but failed to make their extra point. The Wildcats pulled ahead when senior Colbie Habermacher scored a 10-yard run and senior Wesley Glouchkov successfully made the PAT, ending the first quarter with a scoreline of 7-6 for the Navy Empire.
Habermacher scored his second touchdown of the night with a 12-yard run in the pouring rain, extending the Cats' lead to 14-6 as the game headed into halftime. The Wildcats defense took possession of the ball twice in the second quarter, once with an interception by senior Preston Downey and once by recovering a Viking fumble.
In the third quarter, sophomore Josh Ruiz recovered a Bryan fumble. Later on, the Vikings evened out the score to 14-14 with an 11-yard rushing touchdown – their last one of the game – and a successful two-point conversion.
With four minutes left on the scoreboard, senior Chris Lovick ran for a 4-yard touchdown to tip the Wildcats over 21-14 and maintain their winning streak this season. Downey recorded another reception in the last few minutes of the match.
This week is a bye week for the Cats, but they will face Langham Creek at home on Friday Oct. 5 at 7 p.m.
Across District 14-6A, Cy Woods (1-1) beat Langham Creek (0-2) by a margin of 41-39; Cy Ranch (2-0) defeated Bridgeland (1-1) by a score of 52-10; and Cy Lakes (2-0) hailed victorious over Cy Springs (0-2) with a winning score of 28-7. The Wildcats currently sit third on the table, behind Cy Lakes and Cy Ranch.