Winning streak snapped as Wildcats fall to Langham Creek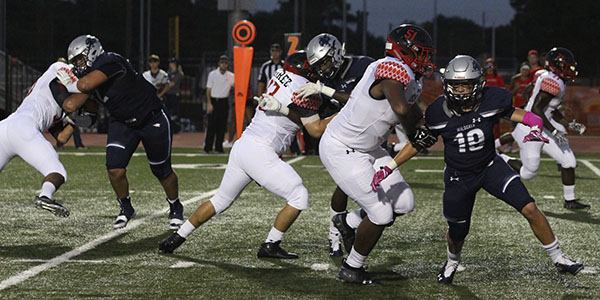 The Langham Creek Lobos dealt the varsity football team their first loss of the season in a close game that ended 28-21.
Four minutes into the first quarter, the Lobos scored a touchdown. With three minutes to go, senior Christian Lovick equalized with a three-yard touchdown to even out the scoreboard to 7-7 after a successful PAT from senior Wesley Glouchkov. The Lobos responded with another touchdown, heading into the second quarter 14-7 for the away team.
After two turnovers on downs and one sack of the Lobos quarterback, Lovick scored his second touchdown of the night to tie the game at 14-14 before the end of the first half.
Langham Creek completed a touchdown pass to retake the lead, putting the score at 21-14.
At the beginning of the fourth quarter, senior Preston Downey intercepted a Lobos pass, taking possession for the Wildcats. Junior Logan Kyle caught a pass from junior Chandler Galban to narrow the gap, until the Lobos responded in the last minute with the last touchdown of the game to win 28-21.
The Wildcats face off against the Bridgeland Bears (2-4) on Friday, Oct. 12 at 7 p.m. at the Barry Center (Cy-Fair FCU Stadium).