Varsity football breaks down the Bridgeland Bears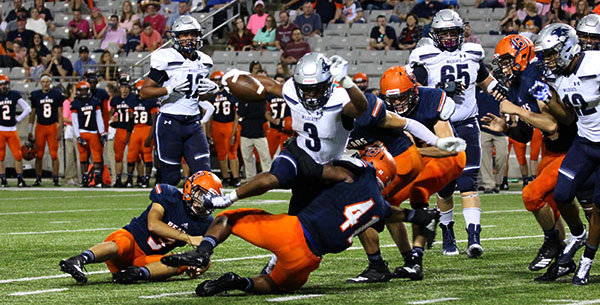 Taking the field at the Berry Center on Friday, Oct. 12, the varsity football team emerged victorious over the Bridgeland Bears with a final score of 59-21 and 600 yards.
The home side scored the first touchdown of the night, taking the lead until senior Chris Lovick ran for a 10-yard touchdown, leveling the score to 7-7 for the first quarter.
Lovick scored another touchdown with just two minutes left until halftime, extending the Cats' lead to 14-7 until the Bears responded with a touchdown of their own. Senior Wesley Glouchkov kicked a 14-yard field goal to pull the Wildcats ahead once again.
Junior Chandler Galban passed 35 yards to junior Logan Kyle for the Cats' third touchdown at the beginning of the second half. Senior Preston Downey recorded his third interception of the season, setting the ball in motion for Lovick's third touchdown of the night, a 20-yard run that put the scoreboard at 31-14. The Bears scored their last touchdown from two yards. Senior Colbie Habermacher ran for a three-yard touchdown before Galban scored a 38-yard rushing touchdown to end the third quarter at 45-21 for the Cats.
At the beginning of the fourth quarter, Galban connected with Kyle once again for a 75-yard touchdown, increasing the Wildcats' lead to 52-21. With seven minutes to go, senior Jordan Grice completed Galban's 65-yard pass for the last touchdown of a high-scoring night, ending the game at 59-21.
The Wildcats face off next against the Cypress Lakes Spartans for the homecoming game at 7 p.m. on Friday Oct. 16 at Tomball ISD Stadium.