Wildcats secure playoff spot in rain-soaked victory over Cy Lakes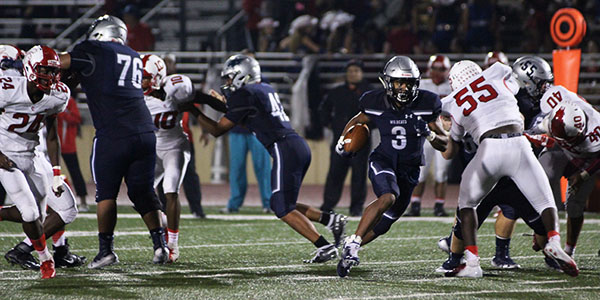 By defeating the Cy Lakes Spartans 28-14 in the homecoming game on Oct. 19, the varsity football team earned their first playoffs spot since 2013. Currently, the Wildcats rank third in District 14-6A with a 4-1 record.
Junior Logan Kyle opened up scoring for the night by catching junior Chandler Galban's 35-yard pass for a touchdown, putting the Wildcats up 7-0. Senior Chris Lovick extended the Cats' lead to 14-0 with an 11-yard rushing touchdown, which the Spartans answered with a touchdown of their own to put the scoreboard at 14-7 at the end of the first quarter.
The Wildcats regained possession early in the second quarter, thanks to senior Blake Johnson's recovery of a Spartan fumble. With just over a minute left on the clock until halftime, Kyle scored his second touchdown of the night, off of a nine-yard rush, but Cy Lakes answered quickly with their last touchdown of the night, ending the first half at 21-14 for the Wildcats.
In the third quarter, Lovick ran for a two-yard touchdown, the last one of the night, to put the scoreboard at 28-14 before the rain resumed. Senior Wesley Glouchkov made four out of four possible extra points that night.
A defensive battle took place during the fourth quarter, during which the Cats' defensive line held onto their lead to win the game 28-14 and improve their overall record to 6-1.
The varsity football team will next face off against the Cy Park Tigers (0-5) on Thursday, Oct. 25, at 6:30 p.m., away at Ken Pridgeon Stadium.
Across District 14-6A, Cy Woods (5-1) defeated Cy Springs (1-4) 36-7; Bryan (2-3) beat Cy Park 42-7; and Langham Creek (3-2) dealt Bridgeland (1-5) a 53-13 loss.