Wildcats tame the Tigers with 56-14 victory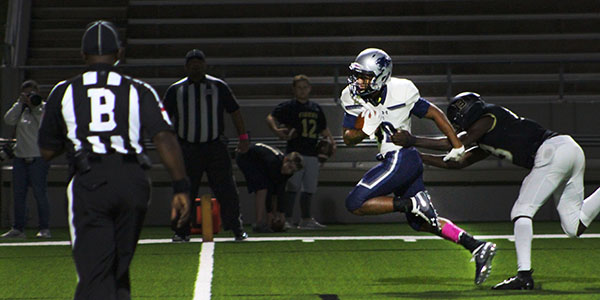 The varsity football team squared off against the Cy Park Tigers on Thursday, Oct. 25, coming out on top with a score of 56-14 and improving their District 14-6A record to 5-1.
At the start of the first quarter, junior Logan Kyle scored a 79-yard rushing touchdown off of the Wildcats' first offensive play. Senior Wesley Glouchkov's extra point was good, and senior Jorden Gidrey doubled the Cats' lead to 14-0 with a five-yard rushing touchdown.
Cy Park scored two touchdowns in the second quarter to tie the game at 14-14. Junior Chandler Galban passed 33 yards to Kyle for a touchdown, restoring the Wildcats' lead to 21-14 before halftime.
Evading the Tigers' defensive line, senior Trey Robertson scored a 42-yard rushing touchdown at the start of the third quarter (pictured above). Senior Eric Maravillo recovered Cy Park's ball, gaining possession for the Wildcats and resulting in Kyle's third touchdown of the night, a 32-yard run that extended the Wildcats' lead to 35-14. Senior Chris Lovick ran for a 46-yard touchdown, ending the third quarter at 42-14 for the away team.
Lovick scored another touchdown in the fourth quarter, running for 28 yards. Senior Marquis David recovered another Tiger fumble, putting the Cats back on offense and leading to a three-yard touchdown from Robertson, ending the game at 56-14 for the Wildcats.
The last home game of the season will take place on Friday, Nov. 2 at 7 p.m. as the Wildcats take on the Cy Springs Panthers (1-7).
Currently, the Cats sit second in the table behind the Cy Ranch Mustangs (6-0), who they will play on Thursday, Nov. 8 at 6:30 at the Berry Center.