Varsity football pound the Panthers in last District home game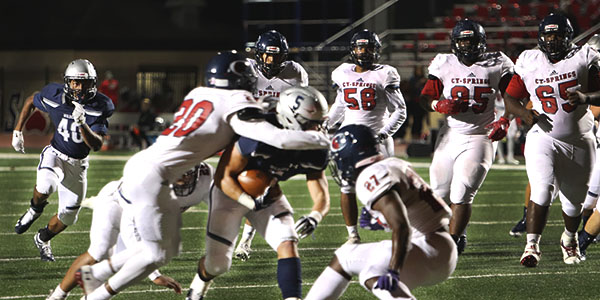 In a strong offensive showing, the varsity football team defeated the Cy Springs Panthers 65-17 on Friday, Nov. 2 and improved their overall record to 8-1.
The Wildcats started the first quarter with a bang when senior Jordan Grice completed junior Chandler Galban's 50-yard pass for a touchdown, putting the home team up 7-0. Just two minutes later, junior Logan Kyle scored a touchdown when he caught Galban's 25-yard pass in the end zone, extending the Cats' lead to 14-0.
With the second quarter barely underway, senior Chris Lovick scored a three-yard rushing touchdown. Seniors Colbie Habermacher and Jorden Gidrey added to the Wildcats' lead with two- and five-yard rushing touchdowns, respectfully. The Panthers earned their first points by scoring a 20-yard field goal, and Grice caught Galban's 14-yard pass with just six seconds on the clock, making the score 42-3 at halftime.
Kyle completed Galban's 29-yard pass for his second touchdown of the night, and the Wildcats picked up two more points when they got a safety, putting the score at 51-3. The Panthers scored their first touchdown with two minutes left in the third quarter, narrowing the Cats' lead to 51-10.
In the fourth quarter, sophomore John Boehning completed sophomore Colton Marwill's 20-yard pass for a touchdown, and Cy Springs answered with a 30-yard touchdown of their own three minutes later. Marwill and Boehning linked up again for a 70-yard touchdown, ending the game at 65-17 for the Wildcats.
The Wildcats' defense recorded two sacks (by junior Seth Fremin and senior Blake Johnson) and one interception (junior Jeremiah Bedizel). Sophomore Clay Habermacher recovered a fumble and recorded one safety. Senior Wesley Glouchkov successfully made every PAT attempted.
This week, the Wildcats will play their last non-playoff game to determine the winners of District 14-6A, when they take on the Cy Ranch Mustangs (9-0) at the Berry Center on Thursday, Nov. 8, at 6:30 p.m.