A Shoe-In for the Win
He sprints on, finish line in sight – after nearly two miles, the race was coming to a close. As he gasped for air just feet from the end, however, something shifted under his foot.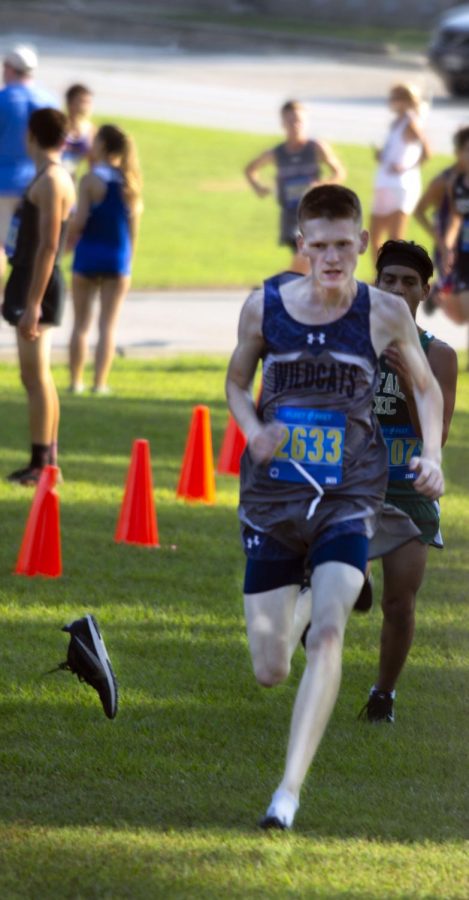 In a split second, his right shoe flew from his foot, arched into the air and landed smack-dab in the middle of the course. He crossed the finish line knowing he'd given all he had – including his shoe – to the race.
"My shoes have this really bad problem of untying in the middle of a race despite my best efforts to tie them," junior Matthew Cazedessus said.
In the final moments of the junior varsity two-mile cross country race at the Klein Bearkat Tune Up Invitational Meet on October 5, Cazedessus tripped and lost his right shoe, finishing the race with his left sneaker and right sock.
"I was coming around the last sprint and another runner was trying to pass me up," Cazedessus said. "So I began to sprint faster than him and I passed up five people at the end."
The fateful sprint earned Cazedessus a new two-mile personal record time of 12 minutes and two seconds.
"I was really proud of him because he did really well," varsity cross country runner Christina Sancho-Spore said. "He just kept going and finished."
Zachary Daum, a varsity cross country runner, rescued Cazedessus' stray shoe from the track.
"We all got a good laugh out of it but it's an unusually common occurrence," Daum said.
According to Sancho-Spore, many runners lose their shoes in races. At the regional competition last year, rain caused many shoes to stick in the mud as runners competed.
"We all lose shoes," Sancho-Spore said. "It's like a rite of passage."
At the end of the meet, the boys JV team finished eighth overall, the boys varsity team placed fifth, and one runner finished with one less shoe.
"It's just one of those things where you think, 'I don't want this to happen, but it'd be pretty funny if it did,'" Cazedessus said.