Varsity tennis finishes fall season
The varsity tennis team is moving into off-season after falling short at bi-districts against Westwood High School on October 14.
Though the players entered fall quarter with a new host of challenges, the boys and girls of tennis emerged with the same drive, effort, and communal spirit of previous seasons.
"I'm very proud because they went in with all they had," varsity and JV tennis coach Elizabeth Leal said. "They managed to hold rallies against the number one team in the state of Texas."
The Universal Tennis Rating (UTR) ranks a player's skill level on a scale of one to 16.5. This rating put into numbers how difficult the team's competition was this year.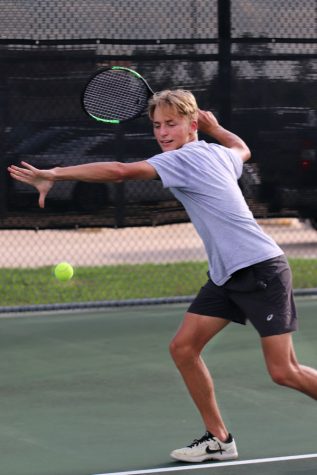 "Many people on our team rank between 3 and 5 and everyone on the Westwood team ranked between 10 and 13," varsity tennis captain Mariko Llosa said.
In the face of tough competition, players stepped up to carry the team through bi-districts. On the lineup every team receives, which is based on match results, Llosa and varsity tennis player Bryce Canillo led as the number one girl and boy.
"It was very tough because my opponent at bi-districts was at a much higher level than I was," Canillo said. "But I played evenly and it gave me the confidence to work toward better things next season."
Without last year's seniors, the team was basically made anew behind the scenes, with JV players filling the ranks. This lineup shift paired with tougher competition made the team's overall performance, finishing the season 5-3, especially noteworthy.
"Everyone really stepped it up this year," Llosa said. "They improved a lot and played better than they did in the past."
To prepare for the fall season, the team began practice at the end of July. They practiced every day except Wednesdays for two hours and had matches twice a week, on Tuesdays and Fridays.
"Although we've practiced so often, the tournament schedule made it really easy for us to manage our time and balance school with tennis," Canillo said. 
Bonding and teamwork have been a focus since the summer, and coach Leal continuously works on improving the team's mental strength just as much as physical strength.
"The team is starting to accept losses, learn from them, and move on rather than get stuck in a mental state of 'I'm not good at this'," Leal said. 
Llosa and fellow varsity captain James Dao kept up the spirit during the season and the entire team motivated each other from the sidelines at matches. 
"
The team is starting to accept losses, learn from them, and move on rather than get stuck in a mental state of 'I'm not good at this'."
— Tennis coach Elizabeth Leal
"It's very easy for the whole team to get down," Llosa said. "We have to give speeches before and after games to boost morale and confidence."
Now that the team is entering off-season, players have a chance to play more tournaments and improve their skills, doing workouts and going to the weight room. The spring season next semester will have a more individual focus so players can aim for personal growth. 
"I want the team to get bigger, better, and stronger," Leal said. "I want to focus on the fundamentals to fine-tune them for the next season."