Assistant volleyball coach becomes head of program
Sydney Lynch started her career at Tomball Memorial as an assistant volleyball coach braving her first year in the education system. Nine years and a lot of hard work later, she's taking charge of the program as head volleyball coach.
Persistence and dedication paid off for Lynch in January when she became head coach after previously applying for the position twice – once when the school opened and once when the school's first volleyball coach Morgan Rogers left.
"This is a position I've wanted for nine years," Lynch said. "Being a bigger part of this program and taking on this responsibility is something I've wanted for a long time."
Lynch, who is also the head girl's track coach and a chemistry teacher, replaced former head volleyball coach Keia Torres after she resigned due to health complications. However, Lynch had taken on a more active role in the volleyball program even before she received the position.
"Coach Lynch really stepped up in August when Coach Torres was on maternity leave," senior volleyball player Sanna Apolskis said. "I'm so glad she has a chance to fully take over the program."
Lynch's desire to be a volleyball coach began after playing volleyball in both high school and college, where she discovered her passion for the sport.
"Volleyball has been a part of my life for a long time," Lynch said. "Through college I knew that I wanted to stay active in the volleyball community, so teaching and coaching allowed me to do the two things I love – science and sports."
"
Being a bigger part of this program and taking on this responsibility is something I've wanted for a long time."
— Coach Lynch
With her heart set on coaching volleyball, Lynch got a job as the varsity assistant volleyball coach at Tomball Memorial in the school's first year. As the volleyball program was significantly smaller, Lynch was the only assistant coach, and she worked alongside the school's first head volleyball coach Morgan Rogers.
"Right now we have four coaches in the volleyball program," Lynch said. "But when I was hired it was just Coach Rogers and myself, and we only had two volleyball teams."
Along with the title of head coach, Lynch has gained several new responsibilities, such as creating next year's game schedule and planning the team's offseason.
"I want to implement new off-season expectations and goals," Lynch said. "It's not a lot of volleyball-specific activities, it's just about how we jump higher, how we get faster, how we get stronger, those kinds of things that we can be intentional about in the offseason."
Now that Lynch is the head coach of both volleyball and girl's track, both class periods were rearranged so that she can oversee them. Whereas previously the two periods overlapped, there are now separate periods for volleyball and track.
"Having two head positions has been a challenge, but now that we have a volleyball period and a track period, I can give my time wholeheartedly to both programs," Lynch said. "The school being flexible in that regard has been very helpful."
Despite her love of volleyball, Lynch's favorite part of coaching isn't the sport – it's the players.
"The girls work so hard, not only for each other, but for themselves," Lynch said. "They have an intrinsic motivation that not all athletes have, and they bust their butts all day long."
Lynch hopes to continue instilling values of dedication and teamwork into her players as she leads them into their next season.
"I believe in our program. I've been here, I've seen the growth, I've seen the struggles that we've overcome," Lynch said. "Our mantra is 'we are one,' and we try to live that in everything we do."
About the Writer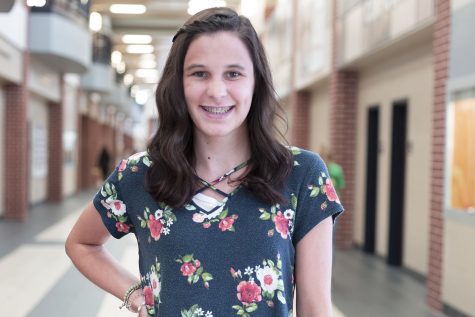 Faith Fuller, Staff Writer
   Hi! I'm Faith Fuller and this is my first year to be a part of the newspaper staff. I am currently a sophomore, and aside from Newspaper I'm involved...