Playing like a girl
Senior earns spot as first female on the varsity football team
Kicking for the varsity football team had always been a running joke with senior Lorelai Stramrood and her friends, but when the team's kicker suffered an injury before the upcoming season, Stramrood decided to take her shot.
"I've always had a very good range of kicking in soccer," Stramrood said. "So one of my friends texted the coach a video of me kicking the ball pretty far and the coaches wanted to see for themselves, and it has just gone on from there."
Over the summer during speed and power camp, unsure that she was even going to play, Stramrood showed the coaches and the team what she had and they liked what they saw.
"She has been amazing," head football coach Sam Parker said. "In my 11 years of being a head coach and 15 years of being a coach I have never had a girl on the team. There was a few logistics we had to figure out at first, but since figuring those out everything has been perfect."
Even though her teammates may have been skeptical at first, players felt she was just what the team needed after seeing her kick.
"I've definitely liked having her on the team," junior Richard Rodriguez said. "She is very important to our team, and it's fun to have a girl on the team for the first time."
Naturally, Stamrood was nervous before the first game in September, as it was her very first game officially playing for the team.
"On the bus ride up there I was getting super nervous," Stramrood said. "But I have played in 90 minute soccer games with over 5,000 people in attendance without any mess ups. I figured I could definitely kick a football a couple of times and be fine."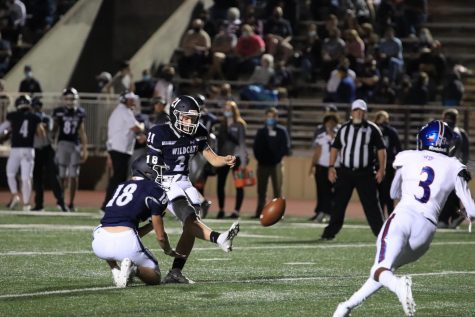 Alongside now playing varsity football, Stramrood has played two other varsity sports in school, volleyball and soccer.
"Lorelai has always been a competitor no matter what she is in," head girls soccer coach Elizabeth Cavazos said. "So when she told me she was playing football I was very excited for her to get that opportunity."
Soccer has always been a big part of Stramrood's life, and she was recruited her freshman year to play soccer at Baylor University.
"I have been playing soccer my whole life," Stramrood said. "Getting recruited my freshman year I got really lucky, because since then they have changed the rules to where you can't officially commit to a school till your junior year."
Soccer definitely helped Stramrood make the football team, but kicking a football and kicking a soccer ball are two very different things.
"A very, very different ball," Stramrood said. "You have to kick a football perfectly to get it to where you want it to go. Even though physically it's easier to kick than a soccer ball it takes a lot more muscle memory."
But even with practice for both club soccer and varsity football almost everyday and games all weekend long, Stamrood still maintains solid balance.
"Despite my club coach kind of being mad at me for doing football, I have football until 5 and then I have soccer right after at 6:30," Stamrood said. "It really just all worked out perfect despite a few overlapping games and practices."