Patriotic Beatdown: Wildcats handle Cougars 60-32 at Kyle Field
On Friday night, Kyle Field was the sight of a top tier fine arts performance, the honoring of veterans, and crosstown rivals engaging on turf.
The Wildcats (3-0) nearly doubled up the Tomball Cougars (3-0) 60-32 – oh, and the game was held in the fifth largest stadium in the world, so to say this battle on the gridiron meant more is an understatement.
Going into the game, according to the win-o-meter formula, the Wildcats had a 66% chance to win. While both teams entered the game undefeated, Tomball Memorial's opponents average rank was 330th in the state while Tomball's opponents average rank was 589th, meaning the Wildcats had a tougher schedule up to this point, giving the Wildcats the edge.
Tomball Memorial's senior quarterback Colton Marwill did not play as a result of an injury, setting the stage for Washington State commit senior Joseph Manjack to line up under center. Manjack commandeered the Wildcat offense to 60 points mostly thanks to his 380 yard, seven touchdown performance in which Manjack tore up the Cougar offense with the trademark Wildcat run-pass-option.
With Manjack moved into the quarterback slot, this obviously gave room for different wideouts to perform Friday night as Manjack's place in the slot was vacated. Senior wide receiver Jake Ferrell picked up three Catches on three targets for 95 yards and two touchdowns, with his first catch being a 69 yard touchdown reception. Ferrell can chalk off scoring his first touchdown of the season on his first catch of the season at Kyle Field off his bucket list.
The running game as a whole Friday Night was as reliable as it needed to be, boosting their previous average of 429 yards per game with a 440 yard performance. Junior tailback Richard Rodriguez wore down the Cougar defense picking up 196 yards at 7 yards per carry, complimenting Joseph Manjack's 235 yard rushing master class. The duo combined for seven rushing touchdowns on the night.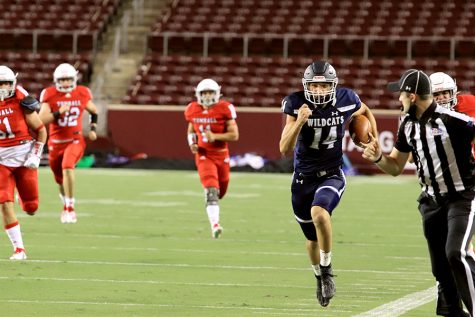 "All the credit goes to Reed Baumann and my o-line," said Rodriguez. "They all did amazing and without them we couldn't have won the game."
As per usual, Coach Weismann's offensive line did not miss a beat, allowing 0 sacks and only one tackle for loss (which was in garbage time). Senior Reed Baumann was outstanding as a lead blocker Friday, and he stands as one of the most unsung heroes of the team, consistently getting his hands dirty in the trenches day in and day out. Wildcat fans are going to miss this unit next year, as most of them just played their last Patriotic Show.
When the Wildcats scored, they scored quickly, with each scoring drive needing about four plays on average to be completed. Such has been the theme all season, and despite having a new signal-caller, nothing changed in that department Friday.
Defensively, the team had their best night of the season aside from the season-opening blowout against Langham Creek, as they forced 13 third and long situations (5 yards or more to go on 3rd down) on the Cougar offense. A recurring theme for the Wildcat defense this season has been the inability to get off the field on third and fourth down, but Friday they held the Cougars to 9/22 on 3rd and 4th down, which played a huge factor in setting up the offense with good field position throughout the tilt.
Kicking wise, senior Lorelai Stramrood was 6/8 on extra points, and was efficient on kickoffs all night. She also has the incredible honor of being the first female to play football on Kyle Field.
Analytically, the Wildcats average starting field position was their best of the season at 43.9, 15.5 more than the Cougars average starting field. Defending this Wildcat football team is hard enough, but setting them up at almost midfield every drive is not going to make things any easier for any defense.
For Tomball, quarterback Cale Hellums came into the game producing 65.4% of their total offense, and Friday Night was no different. After a quick start which featured two carries for 67 yards and a touchdown on the first drive, Hellums added 38 carries, 217 yards and two touchdowns. In the air, Hellums threw 9/18 for 71 yards, giving him 355 total yards in the matchup. Hellums accounted for 70.2% of the Tomball offense on Friday.
"We were looking to spread their defense out," Hellums said, regarding the Cougars game plan. "We knew it was going to be an offensive shootout early into the game."
Tomball's main problem was risky decision making that did not pay off, as they finished the night 1/5 on fourth down, one of those failed conversions being an ill-advised fake punt from their own 35 yard line in the first quarter. Tomball had three drives killed by unsuccessful latter down conversions.
"We planned the fake punt so we could stay on the field and let our offense go to work," Hellums said, referencing a fake punt early in the game. "The defense made a good play and covered our deep snapper on the route."
The halftime show included brilliant performances from both school's marching bands, drill teams and choirs, and a fitting walk of honor for the veterans who attended the event.
As far as Tomball Memorial's own 12th Man was concerned, the audience was deafening, and the crowd really set the tone for what was to come.
UP NEXT: A conference matchup at home vs Klein Cain (2-1 [1-0 district]) on Friday