Wildcats await Klein Cain's blue-chip star
A look at what's ahead for Friday night's game
The Klein Cain Hurricanes (2-1, 1-0 district) are coming to the TISD Stadium this Friday, fresh off a two game winning streak. However, that fact is not what makes Klein Cain one of the team's toughest opponents this season.
Many who watched the Wildcats battle with the West Brook Bruins were very familiar with the Bruins quarterback Bryce Anderson, a junior set to go to Louisiana State University. Anderson torched the Wildcats for 436 total yards from the quarterback spot; that being said, Anderson isn't a natural offensive player.
Klein Cain's Jaydon Blue, the #1 junior running back in the country, is quite the opposite. Blue's small size but elite core strength has drawn comparisons to the likes of Jamaal Charles, and even Longhorn great Ricky Williams. Additionally, Blue accounts for 40.3% of the Klein Cain offense, a large percentage for a running back.
Blue looks to be the most skilled player on the Wildcats regular season schedule, leaving fans to wonder how the Wildcats can come out on top Friday night.
This past weekend, Klein High School held Klein Cain to their lowest yard and point totals of the season up to this point. Klein, while they were defeated 37-20, held Blue to a mere 7.2 yards per carry, which is considered a down game for Blue.
Klein's defensive line did a great job of clogging up the trenches and forcing Blue to cut to the outside on almost every rush. However, forcing Blue to cut to the outside is useless if the outside linebackers aren't fast enough to at least meet Blue on the outside. Additionally, the team's corners will need to shed their blocks on running plays quickly, because there's no guarantee a guy like Blue won't break a few tackles every run.
"Of course he is a great player but we have a plan to stop him," senior cornerback Hayden Davis said. "There is no way around it, that is their dude, if you stop him you stop them."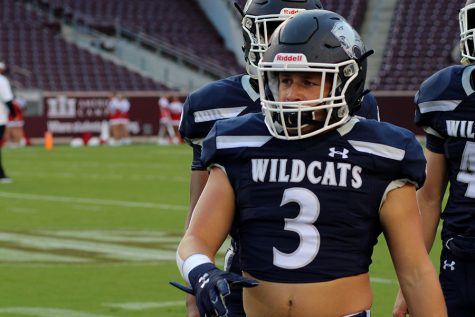 Defending the run hasn't been the Wildcat's forte, allowing just over 397 yards per game in their last two games. That being said, letting Blue run downhill right through gaps in the line is a recipe for disaster, so it is integral the Wildcats tighten up and limit the Hurricanes options.
Speaking of options, the Hurricanes, like the Wildcats, are firm believers in the run-pass-option. Klein Cain often catches teams over-committing to the run, and they'll usually hit junior wideout Matthew Golden in those situations for big gains. The Wildcats will likely be very well-trained as far as defending the RPO is concerned, considering the fact that they themselves almost run the RPO every play.
If the Wildcat offense does their job and dictates the game, then forcing Klein Cain quarterback Carson Roper to take greater responsibility throwing the ball – like the Wildcats did to Tomball High quarterback Cale Hellums – is a recipe for success. Bridgeland put up 49 points on Klein Cain in their season-opener and forced Roper to air it out more, forcing two key interceptions that most would say won Bridgeland the game.
Roper throws lots of screen passes on the play-action passing game, so if the Wildcat's defensive backs can jump these routes we could even be looking at a few defensive scores in Friday night's matchup.
Defensively, Klein Cain has a unique style. The Hurricanes are avid users of the cornerback blitz on third down, and the scary part about that is it tests the blocking skills of the running back. If the backs cannot recognize the corner blitzes then whoever is under center is due for a hot date with the TISD Stadium turf. On the contrary, if the players in pass protection can recognize these corner blitzes quickly and give the signal-caller ample time to make reads, look for guys like senior John Boehning, senior Jake Ferrell and senior Joseph Manjack (if he is lining up at wideout) to exploit the Klein Cain safeties in one-on-ones.
The majority of Klein Cain's sacks comes from interior pressure. In simpler lingo, their defensive tackles are the ones sacking the quarterback. Expect guys like senior Cameron Cook, senior Cameron Carrola and senior Kevin Garner to have their hands full with this Hurricane defensive line.
"Every week is a business trip," Cook said. "If we score every drive they can't beat us, so really this game is just business as usual."
The Patriotic Show was a real confidence booster for this Wildcat offense, as it showed that even without a key player the offense will keep slithering on, so expect the Wildcats to take that momentum into this matchup.
So far, the Wildcats have taken every test they've faced head on and successfully, but their next matchup against Klein Cain looks to be their greatest test yet.