Cheer places second at UIL state competition
Cheer earned the spot of runner-up at the UIL 6A D2 State competition on Jan. 14 in Fort Worth, marking the first time they've ever entered the top 10.
"Hearing our names called to go onstage to be awarded second place was amazing," senior and varsity cheer captain Emma Bice said. "We were expecting to place well but not that high."
This year, preparing for competition was more complicated than years prior but the team was equipped with a different attitude and atmosphere.
"We put so much effort into preparing for competition and it was really fun," sophomore and JV cheerleader Trevi Soto said. "We all really wanted it so it was a great environment to work in."
Due to the pandemic, the team had to do virtual summer training and couldn't begin in person practice until September.
"It was hard to learn through a screen and dealing with technology issues," Bice said. "Establishing personal connections through Zoom calls was really difficult but we managed to get that team bond quickly once we started in-person practice."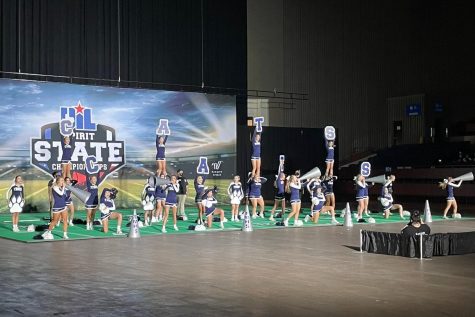 Following UIL guidelines, the team had to wear masks during practice with a few exceptions. They had to sanitize their signs, megaphones, and shoes after each practice.
"Stunting and doing full-outs with a cover on your face was really difficult," Soto said. "Everything was weird but we made it work."
Many on the team credit new head coach Sarah Ellison for their achievement.
"She really pushed us to where we needed to be without making us feel burnt out," Bice said. "She gave the team the drive to go out there and do well."
Coach Ellison arrived at TMHS this year with a competitive background from her previous school and instilled expectations upon the team from the start.
"I wanted to push them to do the best that they could without settling for less," Ellison said. "I had the background to take them to the top and the team had to adjust what they were used to and make personal and athletic changes."
Ellison owes their success at state to developing relationships and expectations early on in the year.
"After establishing those bonds in the team, they trusted me and I was able to push them to the top," Ellison said. "I knew deep down that they had it within them but I had to get them to believe it too."
The team had previously reached a height of 19th at finals but were able to surpass that record with only seven months of preparations.
"We were able to go above and beyond in such a short amount of time so imagine how great we'll be in a couple years," Ellison said. "It was such a huge accomplishment, especially for the seniors as they competed for the last time."