What should you expect from Wildcat Football this season?
Pre-Season Performers, A Tight Quarterback Battle, and a Secondary Filled with New Faces
The last two seasons have been record-breaking for the school's football program.The team successfully won two straight district championships with a 22-3 record in 2 years. In 2021, they delivered on their longest playoff run in team history, propelling them to the third round of the 6A DII State Playoffs. Most of the headlining players of those teams are gone now. The quarterback Colton Marwill has graduated, wideout Logan Kyle signed with Vanderbilt after the 19-20 season, wideout Joseph Manjack signed with USC after the 20-21 season, defensive lineman Daniel Grobe went to Air Force after the 20-21 season, leaving one player remaining from the 19-20 team and 18 of the 53 players from the 21-22 season are returning. It's safe to say we are about to witness the dawn of a new era of Tomball Memorial Football this season, an era which leaves a lot of pressure on the new faces to achieve the same success as the faces of old.
"Out of all the guys we lost this offseason, Manjack and Marwill leave big holes," varsity and freshman coach Ryan Fritsche said. "Manjack's dynamic playstyle and ability to come in at QB is a huge loss, and Marwill's experience and football intelligence will be hard to replicate."
Senior Richie Rodriguez saw snaps in the 2019-20 Season, making him the most experienced player on this roster. Rodriguez had 254 carries last season averaging 7.7 yards per carry with 24 touchdowns and added on one receiving touchdown, giving him 25 of the 36 touchdowns by underclassmen last season. Alongside Rodriguez returns senior Sima Weaver who had 692 yards also at 7.7 yards per carry with five touchdowns of his own last season. Per sources, Weaver broke his hand during offseason practice and is likely to miss the first four games of the season.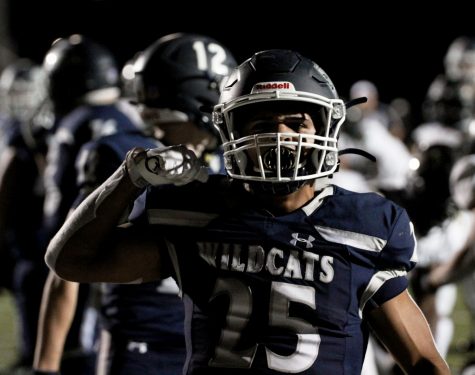 "I definitely feel that there's a lot more added pressure for me to be a leader and to produce," Rodriguez said. "Losing Sima is huge because it adds to my workload, and I can't take as many rests as I would like during games."
When you talk about the offense, you cannot omit the offensive line, and the offensive line features just two returning players, seniors AJ Crease and Josiah Rodriguez. Joining them will be senior Tucker Roberts and sophomores Clayton Schupp and Jalen Ellis. Another missing part of last year's team was the role senior Reed Baumann played as a fullback. According to Fritsche, Baumann frequently made lead blocks and was the go-to goal line option towards the end of the season. Per our sources, there are many guys competing to fill his role at fullback at the moment, but it is unknown who is the frontrunner. Coach Scott Wiesmann was also an integral to the success of last year's line, and he returns this season looking to utilize the luxury of having a physically larger unit.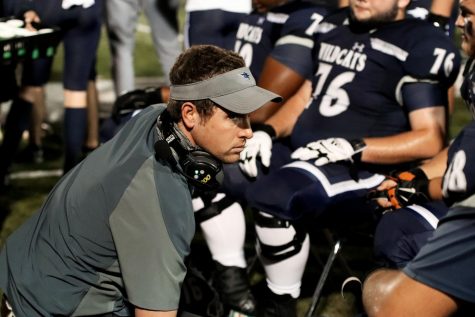 "Last year's offensive line is tough to replace," Roberts said. "But this offensive line is probably the biggest we have ever had at the school."
The passing game is the focal point of the Run-Pass-Option offense the Wildcats run, and the head of that snake was Marwill last season. Now that head needs to be replaced. As of right now, the quarterback situation remains undecided with just a few hours remaining until the Wildcats open the season at home against Aldine-Nimitz. It appears that the battle is between sophomore Lane Stockton and junior Reed Odell, Stockton being a student of the game while Odell is the bigger QB physically. The depth at the QB position has significantly increased in comparison from last year with the rise of Stockton, Odell, and other freshman signal-callers who have arrived this season. Per sources, Stockton and Odell are absolutely neck and neck now in the battle as both have great arms and mobility, and the coaches cannot find a trait that distinctly separates the two, meaning it is likely the pair will split the load at quarterback tonight against Nimitz.
"With Odell, he can take a moment to accelerate but when he gets going he's hard to stop," Fritsche said. "Stockton understands the offense really well, and he displays a lot of traits that Marwill had."
The only wideout who caught a touchdown pass last season that returns is junior Chase Lovick, who split time playing tailback and wide receiver and will most likely play as a wide receiver this season because of his shift to training as a wideout. The offensive system remains the same and will still heavily rely on the receiving core, but Rodriguez hinted to me that he will likely see more passes to him out of the backfield. Alongside Lovick, Rodriguez's younger brother, Yeti, and junior Zach Fields highlight a young wideout core that has a lot to prove.
Defensively, the Wildcats lost four out of their top five leaders in sacks last season, with the lone wolf being the younger brother of Hayden Davis, Andrew Davis, on the defensive line. As far leading tacklers, they bring back senior linebackers Kale Berter and Jesus Castanon, and senior defensive lineman Jared Durett, making the list of returning contributors on the defensive side of the ball larger than the list on offense. Castanon received his first taste of game time late last season, and he was one of the leading producers on the team in that short time racking up 49 tackles in five games and finishing fourth on the team in tackles for loss despite playing five to six less games than the rest of the defense. The linebacker position is filled with depth with a deep talent pool to choose from with Berter, Castanon, sophomore Aiden Holt, junior Ayden Abuzlam, and sophomore Brayden Poe.
"This year's defense just has more chemistry than any other unit we have had at this school," Berter said. "We are just so versatile everybody can play any position, so there's a lot more options for the coaches."
The secondary sees huge holes left by the departure of Joshua Ruiz and Tre Jordan and will be led by returning senior Dylan Hayward, with junior Rikki Edwards and sophomore Colin Helmer looking likely to secure spots in the secondary as well. Ruiz and Jordan combined for 16 pass deflections and half of the six interceptions the Wildcat defense captured last season, but the belief among the defensive staff is this new secondary has accrued a lot of speed and athleticism compared to previous years.
The defensive line returns Davis, Durrett, and senior Lito Perez and the fourth and final spot on the defensive line is being battled for between seniors Cayden Stegall and Tyler Torres. Sophomore Dylan Curl has also shown flashes during practices, so he will be a likely bet to be included on the long list of underclassmen that will get playing time this year. The defense generated tide-turning turnovers last season, accumulating 17 across the entire 2020-21 campaign. The defense as a whole allowed 416.8 yards per game last season (excluding the Oak Ridge and Beaumont games because they didn't post stats) which was not exactly the yardage the Tomball Memorial coaching staff were hoping for. But when the defense was needed to turn up, they did. However, allowing 352 passing yards to a Cy Park team that ran a triple-option offense basically summed up the unpredictability of the defense last season, and the magnitude of returning starters will hopefully bring more consistency in the 2021-22 season. Coaching wise, last season's defensive line coach Zack Kelley took the defensive coordinator job at Klein Oak, but it appears that there will be minimal changes to the defensive structure this season despite the change as defensive coordinator Scott Herman remains in his position.
All the kickers on the team last season were seniors, so we will see a new kicker, senior Burke Aubele, who is also the goalkeeper for the varsity soccer team. He continues the trend from last season of soccer players playing kicker as both Cameron Jernagin and Lorelai Stramrood primarily focused on soccer. Aubele will take care of field goals and PATs leaving the kickoffs open, with it being likely that Helmer will take care of kickoffs. Last season, wideout Joseph Manjack took the job as punter, and this season it looks like sophomores Helmer, Windsor, and the junior Fields will take care of punting duties. As far as returners, it is likely that junior Chase Lovick will handle returns as he has elite speed and good hands being a wide receiver. The Wildcats will run a rotation of Lovick and Fields which included Weaver, but his hand injury has temporarily kept him out of that debate. The rotational return format is designed to keep guys fresh and then roll with the hot hand once the coaches find one. Hayden Davis became a hero when it came to blocking punts and field goals as he was the only player to record a block on the statsheet for the Wildcats, and he had three. Coach Parker will look for guys to have the same hunger that Davis had last season on the coverage unit and look no further than Davis' younger brother Andrew to be that guy.
The schedule is always an important part when looking at how a team is going to perform, and this team has an absolute grind of a non-conference slate. Starting off with Nimitz is a good opportunity for the team to get momentum and confidence, but then the next two games are away games against West-Brook and Spring respectively. West-Brook is a team that dropped 63 points on the Wildcats last season. Spring is the 13th ranked team in the state of Texas and were a touchdown away from taking down DeSoto in the third round of the state playoffs last season at Baylor Stadium. The Wildcats finish off the non-conference slate with a game at Kingwood, who were 2-8 last season losing the first eight games so that game should be a win with the kind of talent in the roster. The district slate opens up with our rivals Tomball in the Patriotic Show who bring back their quarterback Cale Hellums, and then the Wildcats finish the district schedule with all the Klein schools.
"Spring is a tough game for us. They obviously have a lot of success with that state playoff run," Fritsche said. "Myself and Coach Parker know a lot of people from there, and Parker used to coach there so we are really excited for that one."
Living up to last year's success is not the goal for this Tomball Memorial team, because if you ask anyone on the coaching staff, they want to exceed the heights last year's team reached. Accomplishing that is going to be tough, but the Wildcat faithful should be excited for this team because there's a lot of competition on this roster, and you can bet on the old saying that "competition breeds skill" is going to apply for this young and hungry football team.