Wildcats suffer largest loss in school history, fall to Spring 69-21
Loss hands Wildcats first regular season losing streak since 2017
Before stepping onto Planet Ford Stadium last night, the Wildcat players and coaches knew two things: Spring was a darn good football team and if they lost this game it would mean absolutely nothing to their playoff hopes. Both those beliefs were exercised in the worst ways, as the Spring Lions gave the Wildcats a drubbing the school has never seen before, topping them 69-21.
Before I analyze the game, I feel a certain point must be emphasized for the Wildcat fans that will obviously panic at the result. Non-Conference games are truly as important as scrimmages. If the Wildcats were to go 0-4 in their non-conference slate and lose all their games by 100+ points, they'd still have just as good of a chance to make playoffs if they went 4-0 and won all their games by 100+. This is not college football where a bunch of guys who don't play on the field rank the teams based on their name and pedigree and those rankings determine who gets to play for the ultimate prize. In high school football, it's all about district play, and the Wildcat players and coaches know this. I can assure you after this next game against Kingwood, they will come out flying for their district opener against Tomball. If this type of loss happened in a district game vs Klein Cain, my analysis would be much more cut-throat and critical, but at the end of the day, Spring is one of the best teams in the state.
Now to the game- the Wildcats had possibly one of the worst starts to a football game imaginable, finding themselves down 41-0 with just over seven minutes remaining in the second quarter. Spring quarterback Bishop Davenport often had a lot of time in the pocket, and when a team that has five wide receivers running routes can give their signal caller time to throw, it will never end well. When the Wildcats defensive linemen got to Davenport, they'd seldom bring him down and he'd often break tackles and extend the play or scramble to get yards. Spring abused the middle of the Wildcats secondary– which was missing sophomore safety Colin Helmer from an injury he sustained in the Wildcats last matchup against West Brook– with Davenport constantly zipping passes through the seam moving the chains left and right. Davenport finished 22/28 passing with 388 yards and five touchdowns with an additional 114 yards rushing and a rushing touchdown. Davenport's main target, Travis Sims, caught seven passes for 155 yards and two touchdowns while Spring as a whole finished with 652 yards of offense, with their 264 yards rushing being one of their highest totals running the football in quite some time.
Offensively, sophomore quarterback Lane Stockton and junior quarterback Reed Odell again swapped after bad drives as the Wildcat coaches were trying to see if either could give the team a spark on offense. Both saw more pressure than usual from a Lions defensive line that has some of the best tackle for loss numbers and quarterback pressure numbers in the state, and in turn it caused both of them to make mistakes that we haven't seen before. Both had passes go errant, both missed throws they'd rather have back, and both were scraping turf out of their facemasks all game.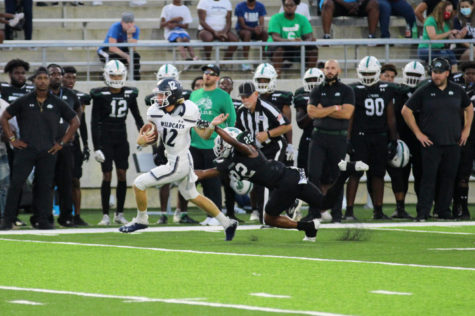 Senior tailback Richard Rodriguez Jr. had a pretty good game given the circumstances and Spring's reputation as a team that does not typically allow much in the running game, getting 107 yards at 5.9 yards per carry, becoming the first running back Spring has allowed to surpass 100 Yards in four years. Wide receiver Zach Fields again showed his ability to generate big plays picking up a highlight reel one handed catch and adding a rushing and receiving touchdown, and I'd say Fields' growth as a player over this offseason is a testament to his work ethic. Junior Chase Lovick was the first one to bring Wildcat fans out of their seats as he opened the Wildcats tab late in the second quarter with a catch and run that found pay dirt and he finished the day with three catches for 105 yards and the aforementioned touchdown.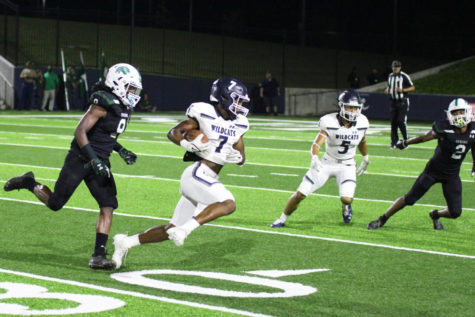 Senior placekicker Burke Aubele hit all three of his extra point attempts and sophomore punter Hayden Winsor again had a great day punting the football averaging 30.3 yards per punt. On the flipside, the return game did not have their best showing as the return team muffed two kickoffs that were recovered by the Lions, giving them great field position.
District 15-6A does not have any teams that are even close to as well-rounded and as good as the Lions and even the West Brook team the Wildcats faced last week, meaning the most important takeaway from a game like this is that this young Wildcats team got a load of experience and bruises that will prepare them for the games that matter starting late September. The Wildcats will face Kingwood at Turner Stadium next Friday at 7:00 PM central.