10th Patriotic Show Game set to be a Classic
A Capacity Crowd is expected tonight at TISD Stadium
The game everyone circles on their calendar when the schedule is released is here. Tomball vs Tomball Memorial. Wildcats vs Cougars. The Patriotic Show. The New TISD Stadium. The 10th matchup between the two schools. The first district game of the season. State playoff implications. Everything is on the line for this game– let's look at the key matchups.
This game is going to be just as much of a shootout as last year's 60-32 barn-burner which saw the Wildcats exit Kyle Field victorious. Both teams have dynamic offenses that can put up points like nobody's business. For Tomball, the key to their success offensively is Senior quarterback Cale Hellums, who returns as the Cougars starter after having an outstanding 431 yard, 3 touchdown performance in last year's matchup. Expect a lot of designed quarterback runs and an emphasis on the running game from Tomball, and alongside Hellums, they have three running backs that they are confident can share the load of carries and punish the Wildcat defense.
"The class of 2022 for us is so amazing, and it's probably been the best class we've had at Tomball," Hellums said. "There's been so much improvement from our guys over the last year, especially in our wide receiver core."
Passing wise, Tomball runs a lot of screens whether it be to the wide receivers or to the running backs, which will place a lot of responsibility on the Wildcat defense to move laterally and move fast. The Cougars wide receiver core is vastly improved this season, with seniors Derrick Taylor and Jayden Grey expected to put up big numbers tonight.
"As a [defensive line] we are focusing on maintaining our gaps and preparing for the QB Draw," Senior Jared Durrett said. "We have been practicing sniffing out the screens all week."
Defensively, the Wildcats need to set up 3rd and long situations because the Cougar offense will not be able to rely on their deep passing game. However, the Wildcats have struggled getting off the field on 3rd and 4th down situations all season, but expect the adrenaline and district implications off this game to bring out a hungrier defense tonight. Limiting broken tackles will be a focal point for everyone on defense tonight, as most of the Cougars offense relies on yards after first contact. A huge change from last year's edition of the rivalry is the Wildcats didn't really have a scouting report on Hellums, as he had just transferred to Tomball from Concordia Lutheran Academy. This year, they have a much better understanding of his skillset and what to expect, and I can tell you for a fact they are taking this year's game much more seriously than last year's. Linebacker Brayden Poe broke out in the Wildcats final non-district game against Kingwood, so expect him to have an extended role in this matchup. Defensive Back Rikki Edwards is coming into this game off a huge performance against Kingwood where he picked up two interceptions, including the game winning interception with less than 20 seconds to play. I anticipate that whoever can win the battle between the offensive line and defensive line will win this game, so it is extremely important that the Wildcats get contact with the Cougars runners behind the line of scrimmage.
"We noticed tendencies in their formations in film, so hopefully we can catch them by surprise," Senior linebacker Kale Berter said. "We want to try and focus on the quarterback more when it comes to attacking their offense."
The Wildcats offensive coordinator Jim Woodard knows what it's like to be on both sides of this rivalry, having been on the Tomball sideline as a wide receivers coach for the first couple matchups and having been on the Wildcats staff for the entirety of the current winning streak that spans back to 2017. Woodard came into last year's matchup knowing he would not have longtime Wildcat quarterback Colton Marwill, forcing him to rely heavily on star wideout Joseph Manjack and the running game. This year, the script is completely flipped, and Woodard has two quarterbacks in sophomore Lane Stockton and junior Reed Odell at his disposal. It is known that Stockton and Odell are both fighting for that starting quarterback job, but Woodard just wants to see them embrace the moment and stay true to their strengths and block out the outside noise. A huge returning asset for the Wildcats offense is senior running back Sima Weaver, who is making his first appearance of the season tonight, and he will surely ease the pressure on senior running back Richard Rodriguez Jr. who has absorbed a lot of hits in the non-district slate.
"[Having Sima back] definitely makes our rotation a lot easier," Woodard said. "While Sima was gone, we had to move guys like Espen Ramos and Chase Lovick who are natural wide receivers back at running back so having Sima makes our offense a lot more fluid."
Defensively, the Cougars have a very talented defensive line and they will most likely run a similar setup defensively to what they had last season. Four defensive linemen, one mike linebacker, two wide outside linebackers, two cornerbacks, and two safeties, basically a traditional 4-3 defensive setup with wider outside linebackers.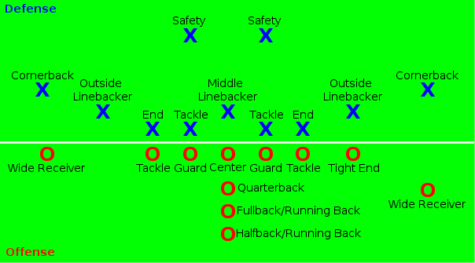 Head Coach Sam Parker and Woodard are going to look to attack that grass that's left open in between both outside linebackers, but they will need tip-top performances from the wide receiving unit that includes Ramos, Lovick, senior Zach Fields, and junior Cory O'Bryant.
"We're running 10 personnel and we are looking to spread out their defense, " Lovick said. "They won't be able to stop us [passing the football] because we have so many weapons."
The offensive line has gotten better and better as the season has gone on, and they need to continue that trend tonight if the Wildcats are going to win this game. After offensive line coach Scott Wiesmann has done some shuffling in terms of personnel and positions, it seems he's found the right unit which has seen Rodriguez pick up 2 100+ yard rushing games in a row.
"Offensive football generally takes longer than defensive football to click," Woodard said. "An offensive line has to get lots of snaps together before they can really produce and they have gotten a lot more chemistry with each other as the season has gone on."
As far as the atmosphere tonight, it is a sold out crowd. 10,000 seats and likely not one of them will be open, making for a tough environment for both teams to operate in.
"For [the guys who have been on varsity before], we are used to [the atmosphere]," Durett said. "But we have a lot of young starters playing their first patriotic game, so it can be nerve racking when trying to communicate."
I'm not allowed to drop my opinions in these articles, but I can tell you for free that even if I could, I can't predict the outcome of this game. There's a lot of experienced guys for Tomball, a lot of young guys for the Wildcats, it all depends on which team will settle in quicker and seize the moment. For those in the stands, enjoy the atmosphere, this game is going to be a dandy.
Who we smoke.