Wildcat Football's Worst Start Since 2012 Has Everyone Looking for Answers
Inexperience, Pressure, and lack of Mental Toughness the catalyst for football's tough start
Heads down, tears in people's eyes, sympathetic embraces, the scene described is not a funeral, yet the sideline after another tough loss for Wildcat football. The 2021 season has not been kind to the Wildcats, as they have started the year 2-5 and 0-3 in district play, their worst overall start since the school's inaugural season in 2012 and the worst district start since 2017 when the Wildcats also started 0-3.
So what happened? Are the Wildcats just not good anymore? Is the Wildcats district a lot better? Is this just a down-year or is this the start of a dark stretch for football at the school?
Hold all the questions, let's settle down and take a look at what's going on.
Prior to the season I wrote an article about what to expect from Wildcat football this season and in that article, I mentioned how there will be more new faces than old faces in virtually every position other than running back. In the graphic below, the positions highlighted in green are positions with first year starters.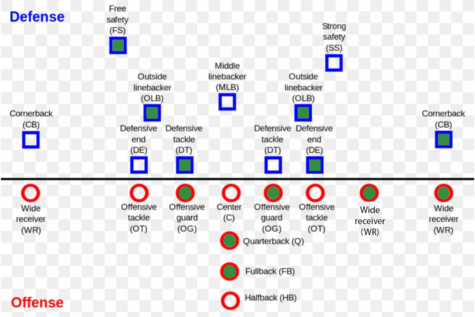 This year's rough start can't just be explained by X's and O's as it is a combination of many things alongside that. The mindset has to be the top of the list. Last year's team was not only humble in the way they carried themselves, they also held their head high no matter what, which isn't something I can say about this year's team. From personal experience being on the sidelines, I've noticed the team will often have their heads down extremely early in games when the game isn't even close to a loss. Another problem is something I just did, comparing this team to team's of the past. As seen in the graphic above, this team has more sophomores starting than any other team during Coach Parker's tenure which doesn't bode well for competing in a district which has teams mostly comprised of seniors. It is simply unfair to this group to compare them to the teams of the past; they just don't have the necessary experience to do so, and the difference two years in a football weight room makes is humongous.
Lack of depth on the defensive side of the football has also been crucial to this team's demise, as it has really limited the options of the defensive coaches. Players who don't naturally play defense have been switched to play on the defensive side of the football from sophomore offensive skill guys to the punter. Some of these position changes are due to injuries, and some of them are just the coaches looking for answers. Defensive football requires anyone a part of it to have a short-term memory, which is a lot to ask from a defense filled with underclassmen in a program that has higher expectations. This defense unfortunately does not have a short term memory. Strokes of leadership from upperclassmen like senior Jared Durrett yelling on the sideline have been seen, but overall, there is a lot of conformity with the unit when it comes to having their head down after something goes wrong.
The problems don't start and end with the defense though, as the offense has had shake-ups at every position aside from running back. Last year's offense had an established quarterback in Colton Marwill and three established running backs, they had a workhorse at fullback in Reed Baumann, and the offensive line comprised of seniors Kevin Garner, Cameron Cook, and Jacob Mounger with current starters Josiah Rodriguez and AJ Crease at tackle. Cook's hole at center has been filled well by senior Tucker Roberts who had experience playing varsity minutes but just hadn't played center in his career, but the holes left by Garner and Mounger have been evident. Sophomores Jalen Ellis and Clayton Schupp both play guard and experienced guard play is essential to the Run-Pass-Option offense the Wildcats run, so it's hard to get experienced guard play from two sophomores.
Additionally, senior tailback Sima Weaver's injury has been huge as it has placed much more burden than anticipated on senior tailback Richie Rodriguez to produce, and unfortunately with that pressure has come subpar rushing numbers from the team as a whole. Yards per carry has dropped from 8.05 to 5.84 and that has meant that the coaches haven't been able to rely on the run as much as they have in years past, putting an added pressure on a very inexperienced quarterback room. Sophomore Lane Stockton and junior Reed Odell have combined for a 60% completion rate and 185.5 yards per game this season and 20 touchdowns which is a very respectable number given the circumstances, but it still isn't good enough when the running game isn't as dependable as years past and the defense is allowing 43.8 points per game. However, both QBs have made their fair share of mistakes, and it feels like there has been a lack of consistency in the quarterbacking front, which doesn't translate to a confident football team when people are still wondering who the quarterback is seven games into the season.
The most heartbreaking part about this season for Wildcats fans has been, these kids care. They spend hours watching film and practicing, and no one will see that because at basically every level of football, all you see is the 48-minute product displayed on Thursday and Friday night's.
This year's team goal before the season was to make the playoffs, and the chances of that, while not impossible, look pretty bleak. They have 0-4 in district play Klein Forest up next this Thursday, but then they will have two very good football teams in Klein Collins and Klein Oak to play who like every district team on the schedule are looking to avenge the losses last year's team handed to them. The team needs to eliminate the record and look to go 1-0 every week, game by game. They cannot sulk their way to the end of this season because there is a world where they sneak into playoffs if they go 3-0 to finish the season. Don't believe me? Here is the scenario.
IF is a word larger than the Burj Khalifa in this scenario, but IF Tomball Memorial wins their remaining games in convincing fashion, Tomball gets blown out by Klein Cain and has a close win against Klein, Klein loses to Klein Collins and Tomball, Klein Forest loses their remaining games, Klein Cain dominates Klein Oak and Tomball, Klein Collins beats Klein and Klein Forest but loses to Tomball Memorial, Klein Oak gets dominated by Klein Cain and beats Klein but loses to Tomball Memorial, then this would be the district outlook.
District 15-6A if Tomball Memorial were to make playoffs:
5-1 Klein Collins (Tie-Break on Klein Cain because of head-to-head)
5-1 Klein Cain
3-3 Klein Oak (Tie-Break on Tomball Memorial because of point differential)
3-3 Tomball Memorial (Tie-Break on Tomball because of point differential)
3-3 Tomball
2-4 Klein
0-6 Klein Forest
Each game where the Wildcats needed not just a win or a loss but a big win or a loss were fractions out of 3, and games where the Wildcats needed just a win or a loss were out of 2. So by combining all the odds…
The chances of this scenario happening disregarding team strength are 1/2916.
Most may laugh at the mental gymnastics I just did, but where there is a will there's a way, and the players need to know that. Realistically speaking, in every game the season is on the line, but now the season is TRULY on the line for this group, and they need the pressure to create diamonds.