She's Still Spinning
Entering the band hall, there are lines of people spinning flags in unison. Each tossed flag is caught with with steady hands. It may seem easy, but tossing and spinning can be hard on the hands. And for one person in particular, it's a little more difficult.
Sophomore Bianca Dinh was born with three fingers on her left hand, and none on the other. The same thing affected her toes as well. In the womb, they weren't able to finish growing.
"I like seeing people's reactions," Dinh said. "They usually say it's cool."
Looking back, Dinh admits she doesn't face a lot of problems with her lack of fingers. She writes and draws just as good as everyone else, and even paints her three nails constantly.
"No one has ever made fun of me for it," Dinh said.  "I mean, I could do everything everyone else did. It wasn't really hard for me."
Not only does she have better handwriting than most, she has also been a member of colorguard since freshman year. Convinced to try out, she is now known as "the girl with three fingers in varsity colorguard".
"She showed me her fingers and I told her that she should just try it," Colorguard Director Tim Leblanc said. "She's definitely a hard worker so she tried and figured it out."
Learning how to toss flags and rifles with three fingers was a hard challenge to face, but to Dinh, all she had to do was work through it.
"At first, I was slower than everyone because I couldn't toss but I found a way to do it," Dinh said. "That's all I do. I find a way to do things that challenge me.
Over the years, she has surpassed everyone's expectations with how fast she learned. At first she was only a beginner fighting through bruised hands and fingers, but now she makes it look easy.
"She actually wants to be good and she knows what I expect from anyone so she tries her hardest to stay on par," Leblanc said. "I used to give her slack but now I don't."
Some may think that she would be self conscious about it but she proudly shows them off and even jokes about it. It doesn't bother her that some people don't know her name, or how they stare, she's happy with who she is and wouldn't trade her hands for all ten fingers.
"I like being known as the girl with three fingers but can still do everything that everyone else can," Dinh said. "If I had all fingers, I feel like there wouldn't be anything that set me apart from everyone else. I like being different."
About the Writer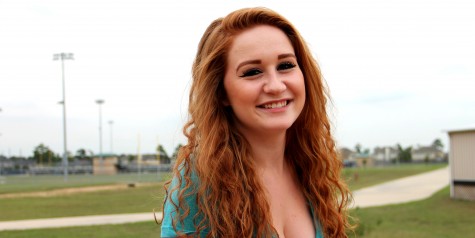 Kat Atchisson, Co-Editor
Hey, my name is Kat and this is my second year as Co-Editor and my third year of being a part of The Post staff. Being a senior this year, I'm excited...